Valentine's Day Date Ideas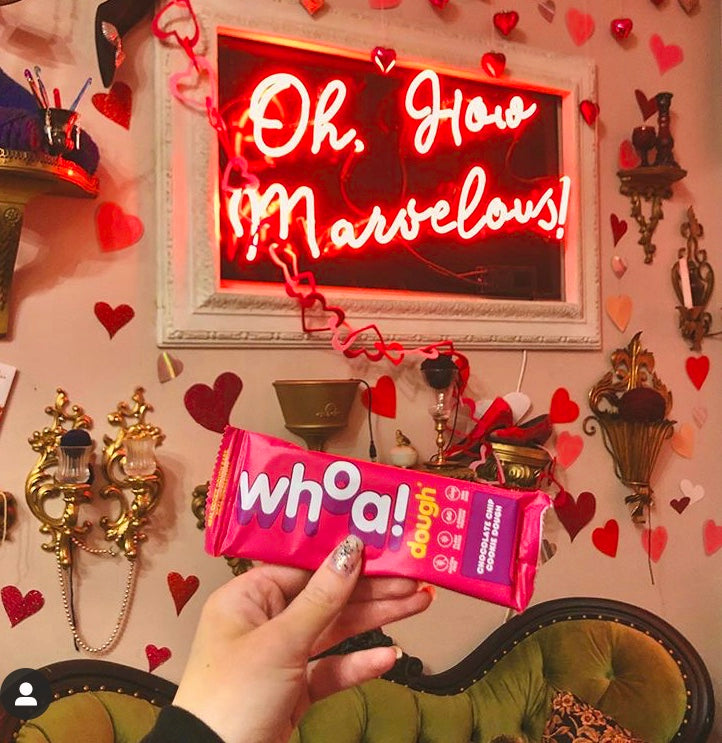 Valentine's Day is right around the corner! Chances are, you already have an idea of how you and your boo are going to celebrate, but if you don't, there's no need to panic! We've got your back. Make this V-Day special for you and your special someone with these Valentine's Day date ideas!
Bake heart-shaped cookies together. Sweeten up your V-Day by doing some baking with your honey! After all, there's nothing sweeter than cookies (except maybe your date, but we'll let you be the judge of that 😉). Baking and decorating cookies together is a fun and romantic way to spend your special day—even if you and your boo lack baking skills, that's all the more fun you'll have together trying! If all goes as planned, you'll end up with a batch or two of delicious Valentine's Day treats to share, and if not, at least you'll always have our dough-lectable Whoa Dough bars to fall back on!
Go out for a nice dinner. This may seem like a pretty obvious one, but we had to add it to our list—it is a classic date night idea, after all! It's always fun to get dressed up with your sweetheart and go somewhere a little nicer than you'd normally choose on any given day. It's amazing how a fancy venue and some nice clothes can make an occasion feel so much more special! Whether you and your date book reservations at your all-time favorite restaurant or go somewhere new, we'd definitely recommend the lobster.
Take a dance class. Get your salsa on by taking part in couples dance lessons! It may sound ridiculous if you and your significant other aren't necessarily skilled dancers, but taking a dance class together can be super romantic and a lot of fun. One of two things could potentially occur if you and your date decide to spend your Valentine's Day immersed in the world of dance: 1. You could turn out to be fantastic dancers and gracefully sway the night away in each other's arms, or 2. You could spend the evening tripping over your partner's feet and laughing together for hours. Either way, sounds like a good time to us!
Go wine tasting. Do you and your boo love the finer things in life? If so, you might enjoy a nice Valentine's Day wine tasting! Wineries and vineyards always have the most enchanting ambiance—perfect for the most romantic day of the year. Not only will you and your honey have a wonderful time sampling a wide variety of wines, but you can even decide which wine you liked best and buy a bottle to take home for the night! You can even keep the bottle or cork as a keepsake to better remember your Valentine's Day for many years to come. 
See a theatrical performance. Everyone loves a night on the town! Getting dressed up and enjoying an evening of theatre with your sweetie is a sure-fire way to make your Valentine's Day special. With so many different types of theatrical performances like musicals, plays, dinner theatres, comedy shows, dance performances, orchestra concerts, and more, it won't be difficult to find something you and your love will both appreciate. Whether you hit up a major theatre district like our very own Playhouse Square or visit a community theatre near you, you'll be sure to have a spectacular evening!
Go pottery painting. Want to make this Valentine's Day memorable? Grab your sweetheart and pay a visit to your local pottery painting studio! Regardless of your artistic talents, pottery painting can be a fun and relaxing way to bond with your babe on V-Day! You can even decide to craft your ceramic masterpieces specifically for each other and exchange them as an extra special Valentine's Day gift. 
Cook dinner together. What's more romantic than a candlelit dinner for two? A homemade candlelit dinner whipped up by none other than you and your special someone. Choose a few recipes that you'll both enjoy, take a trip to Heinen's for ingredients, and work that kitchen! You'd be surprised how fun and intimate cooking can actually be when you're doing it with someone you love. Once your recipe is complete, you and your boo can light those candles and enjoy your homemade dinner together.
Go roller skating or ice skating. Celebrate your Valentine's Day by hitting up the skating rink (roller or ice—that's your call). Couples skating is a fun and romantic activity that will have you and your sweetie giggling and gliding hand-in-hand all night long. Maybe you'll fall a lot, maybe you'll perform your own synchronized skating routine and be the envy of the rink (we don't know), but either way, we're sure you'll be having fun.
Pet puppies at the pet store. Want to treat your sweet to a fun night out but don't have the biggest budget to work with? No problem! You and your boo can visit your local pet store for an adorable evening filled with wagging tails and sloppy kisses, all for the low low cost of zero dollars. Petting puppies is a heartwarming experience alone, but it's even more special when you can do it with your sweetheart. Not to mention, the puppies love any opportunity they have to get out of their crates and play!
What better way to show someone you love them than by planning a special day of romance and fun? With lots of cute and quirky dates to choose from, you can make this Valentine's Day perfect for you and your valentine. Give one of our date ideas a try, and let us know how much fun you had with your sweetie in the comments!
Have a very happy Valentine's Day!
-The Whoa Dough Team