Our Favorite Dessert Recipes!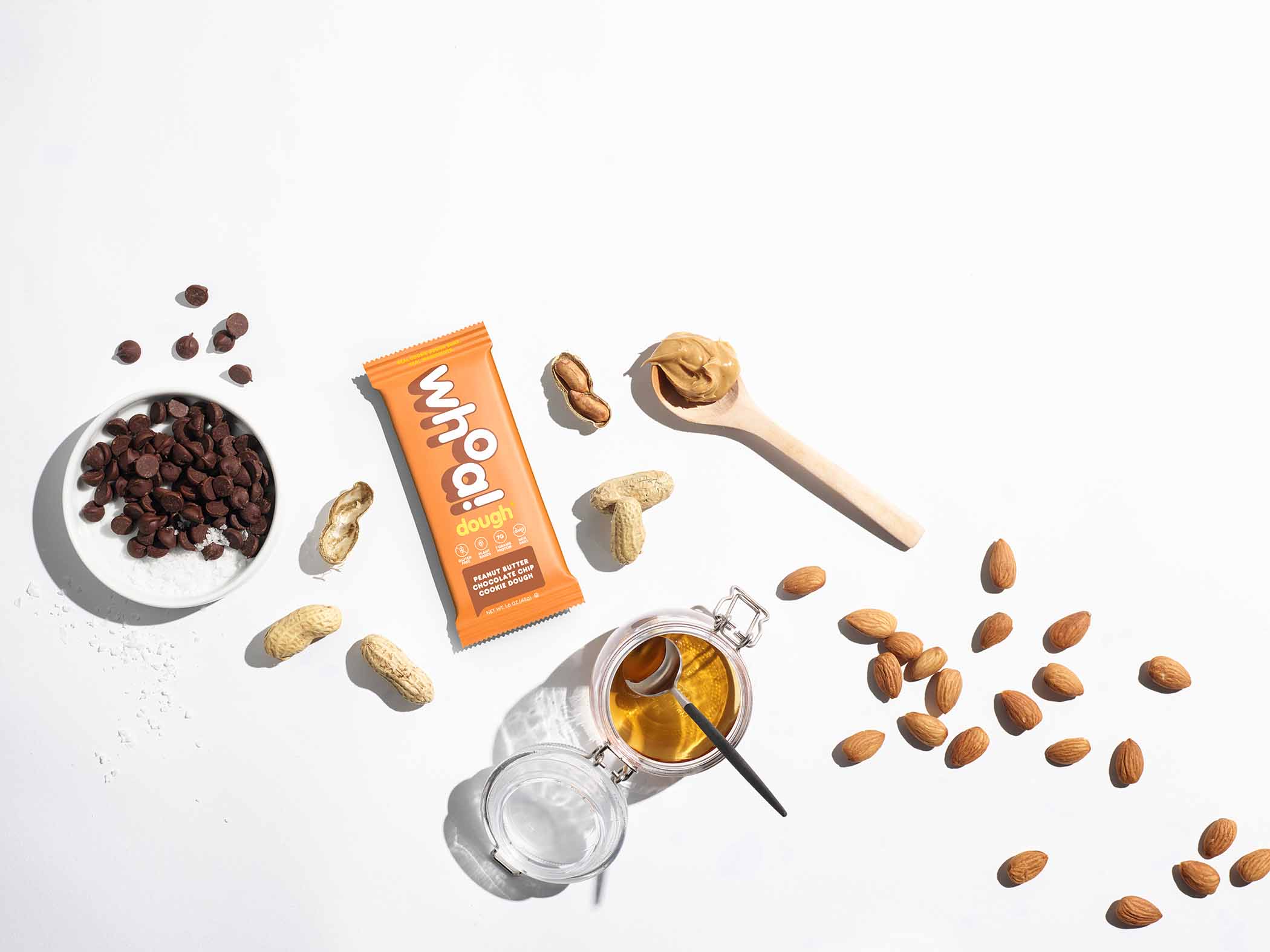 Whoa Dough bars can be served a variety of ways - chilled, baked, or even on-the-go! However, sometimes we all crave a different type of dessert. The Whoa Dough team has come up with some recipes we want to share with you. They incorporate your favorite Whoa Dough bar into your favorite desserts. P.S. - All the recipes are also vegan and gluten free, just like our bars! 
Peanut Butter Chocolate Chip Brownies 
Ingredients
2 Whoa Dough Peanut Butter Chocolate Chip Cookie Dough Bars 
¼ cup unsalted almond butter 
½ cup light brown sugar
⅓ cup maple syrup 
¼ cup and 2 tablespoons melted coconut oil
¾ cup unsweetened cocoa powder
1 teaspoon pure vanilla extract 
¼ teaspoon salt 
2 flax eggs (2 tablespoons ground flax + 6 tablespoons water, whisk together, set for 15 mins)
¼ cup + 2 tablespoons gluten free oat flour
½ cup vegan chocolate chips
Instructions 
Preheat oven to 350°F. Line an 8x8 baking pan with parchment paper. 

In a large bowl, whisk together almond butter, brown sugar, maple syrup, and melted coconut oil. Blend until smooth. Add cocoa powder gradually, and whisk until thoroughly blended. Add in vanilla and salt. 

Whisk in the flax eggs. Slowly add in the oat flour. The batter will become difficult to whisk - switch to another utensil such as a rubber spatula. 

Fold in the chocolate chips. Crumble up the Whoa Dough Bars and fold them in as well. 

Pour the batter into the pan and smooth into an even layer. 

Bake for 30 minutes. Let the brownies cool and slice into 16 squares. Snack Happy! 
Sugar Cookie Dough Milkshake
Ingredients
1 Whoa Dough Sugar Cookie Dough Bar 
1 cup of ice 
3 scoops of vegan vanilla ice cream
1 cup oat milk 
Instructions
Add ice, ice cream, and oat milk into a blender. Blend on high speed until smooth. 

Crumble up the Whoa Dough Bar and add to the blender. Blend on the lowest setting for about 20 seconds. 

Pour milkshake into your favorite glass and enjoy! 
Chocolate Chip Cookie Dough S'mores
(This recipe is best enjoyed with a bonfire outside!)
Ingredients
1 Whoa Dough Chocolate Chip Cookie Dough Bar 
Marshmallows 
Instructions
Break the Whoa Dough Bar in half.

Heat up a marshmallow over a flame and hold there until the outside of the marshmallow is golden brown. 

Place marshmallow in between the Whoa Dough Bar pieces. Snack happy!
Sugar Sprinkle Ice Cream Sandwich

 
Ingredients
1 Whoa Dough Sugar Sprinkle Cookie Dough Bar 
Vegan Ice Cream of your choice 
Instructions
Break the Whoa Dough Bar in half. 

Place a scoop of ice cream between the two halves. 

Snack Happy! 
Chocolate Pie with Peanut Butter Crust
Ingredients 
4 Whoa Dough Peanut Butter Cookie Dough Bars
12 ounces silken firm tofu 
½ cup Chocolate Oat Milk 
½ almond butter 
1 cup chocolate chips 
Instructions
To make crust: crumble up Whoa Dough Bars and add to a blender. Blend on high until it resembles a crumb-like substance. Add to a 9-inch pie tin. Form into a crust along the sides of the pan. 
Add the tufo, oat milk, and almond butter to a blender. Blend until smooth. 

Melt the chocolate chips. Add the melted chocolate chips to the blender and blend on high until completely combined. The mixture will be very thick. Add the mixture to the crust. 

Cover and place the pie in the fridge for at least 30 minutes. Serve and Snack Happy! 
Make sure to follow us on Tik Tok (@whoadough_) to watch us make these recipes, and more! Did you try out one of these recipes? Comment your favorite below!