Navigating Thanksgiving: A Whoa Dough Guide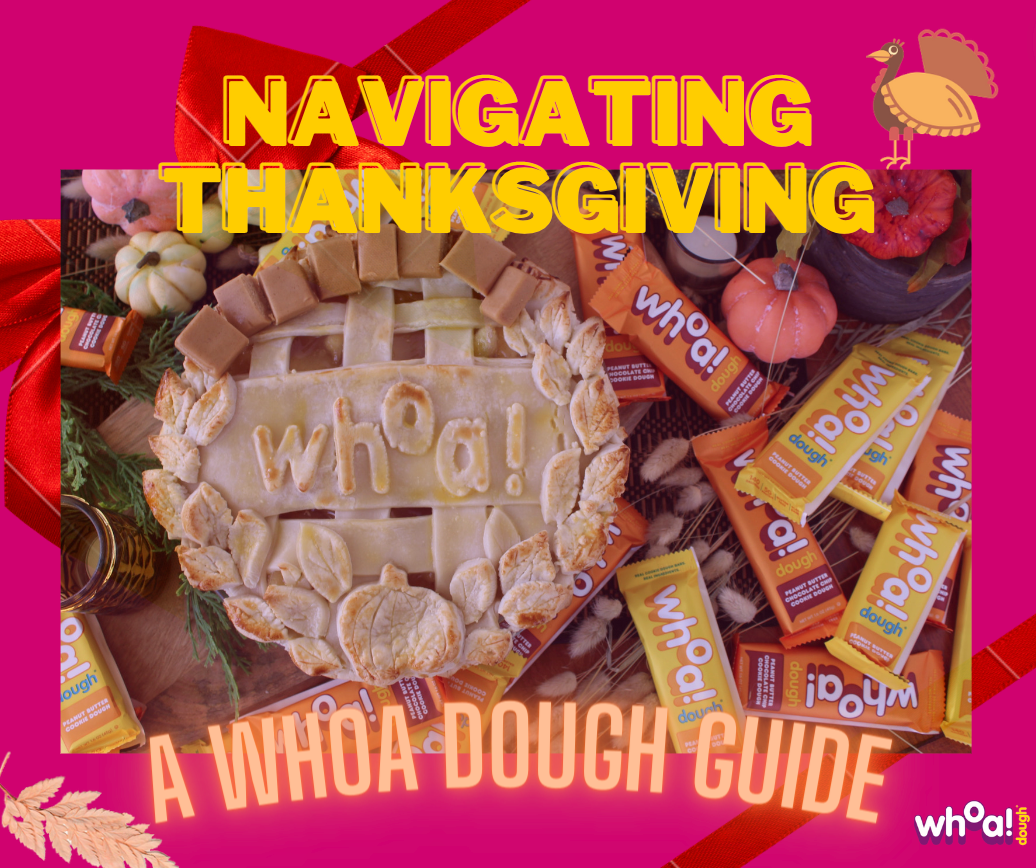 It's the week before Thanksgiving, and we could not be more thankful for all our Whoa Dough lovers out there. To celebrate, we want to share with you a guide to the top vegan and gluten-free Thanksgiving day favorites. Need help discovering good alternatives to side dishes such as buttery mashed potatoes, mac n' cheese (yes, I am pro mac n' cheese as a Thanksgiving side dish), and stuffing? Keep reading for some of the best alternatives.
1) Mashed Potatoes
Looking to still keep your favorite mashed potato recipe but make it vegan? Well, here are some simple ways you can make the thing you love, and eat it too! Simply replace the dairy called for in your recipe with almond milk, coconut milk, or even vegetable stock! Not in the mood to whip some potatoes up from scratch? Try Edward & Son's Organic Homestyle Mashed Potatoes which can be found at your nearest Whole Foods.
2) Stuffing 
While you can simply swap out the bread and butter your stuffing recipe calls for with gluten-free bread and vegan butter, we recommend going a different route. Make life a little easier and buy Aleia's Savory Stuffing Mix at your local Whole Foods! Unfortunately, Aleia's does include eggs so if you are fully vegan and not just dairy free, the former option may work better for you.
3) Mac N' Cheese
Even though mac n' cheese seems to be a sensitive subject when it comes to labeling it as a Thanksgiving dish, I am sure everyone would still love to know the best vegan and gluten free alternatives out there. Without making it from scratch, the best known alternative has to be Banza's plant-based mac. Banza has always been a staple in my house, with the pasta made from chickpeas and packed full of protein. If you like Whoa Dough bars, you'll probably love Banza as both of our products are partially chickpea based! 
4) Cheesy Corn Casserole
Easily one of my Thanksgiving day favorites! I am a sucker for casseroles, and a good, creamy, cheesy corn casserole is just *chef's kiss*. Unfortunately, the "cheesy" and "creamy" adjectives don't make for a promising vegan-friendly dish; but have no fear! I have tried quite a few vegan and gluten free recipes, but my all-time favorite has to go to Strength and Sunshine. In order to make this casserole, you only need 5 ingredients: gluten free jiffy mix, creamed corn, sweet corn, vegan butter, and vegan sour cream. See the link below for the full recipe.
https://strengthandsunshine.com/vegan-corn-casserole-gluten-free/
5) Rice Casserole 
Another amazing type of casserole consistently ruined by dairy… but this is thankfully fixable! Now, there are ways you can go about making an amazing rice casserole with vegan alternatives that still taste amazing. However, I am going to share with you an even quicker and (in my opinion) tastier option. Right Rice offers some of the most DELICIOUS gluten free and vegan alternatives, packed with the added power of veggies. They have two amazing holiday flavors: Brown Butter Sage and Holiday Stuffing. Both are top notch and are the perfect replacement for any rice casserole.
6) Turkey
Ah, and the big one. Now I know what you're thinking, what could possibly replace a great, big, juicy, Thanksgiving day Turkey? Honestly, this one may just be irreplaceable. However, here is a list of a few vegan brand Turkey alternatives that you can try this Thanksgiving:
–Quorn [Meatless] Turkey Style Roast
–Amy's Veggie Loaf
–Field Roast Celebration Vegan Roast (not certified GF)
–Tofurky Plant-Based Holiday Feast (not certified GF)
–Gardein Plant-Based Turk'y Roast (not certified GF)
Desserts can be a whole other challenge when trying to navigate a gluten free and vegan Thanksgiving. However, when in doubt, you can always grab a Whoa Dough bar! We are firm believers that Whoa Dough bars pair perfectly with Thanksgiving food. Give it a try!
Happy Holidays!
~From the Whoa Dough Gang