Last Minute Stocking Stuffers That You Can Find on Amazon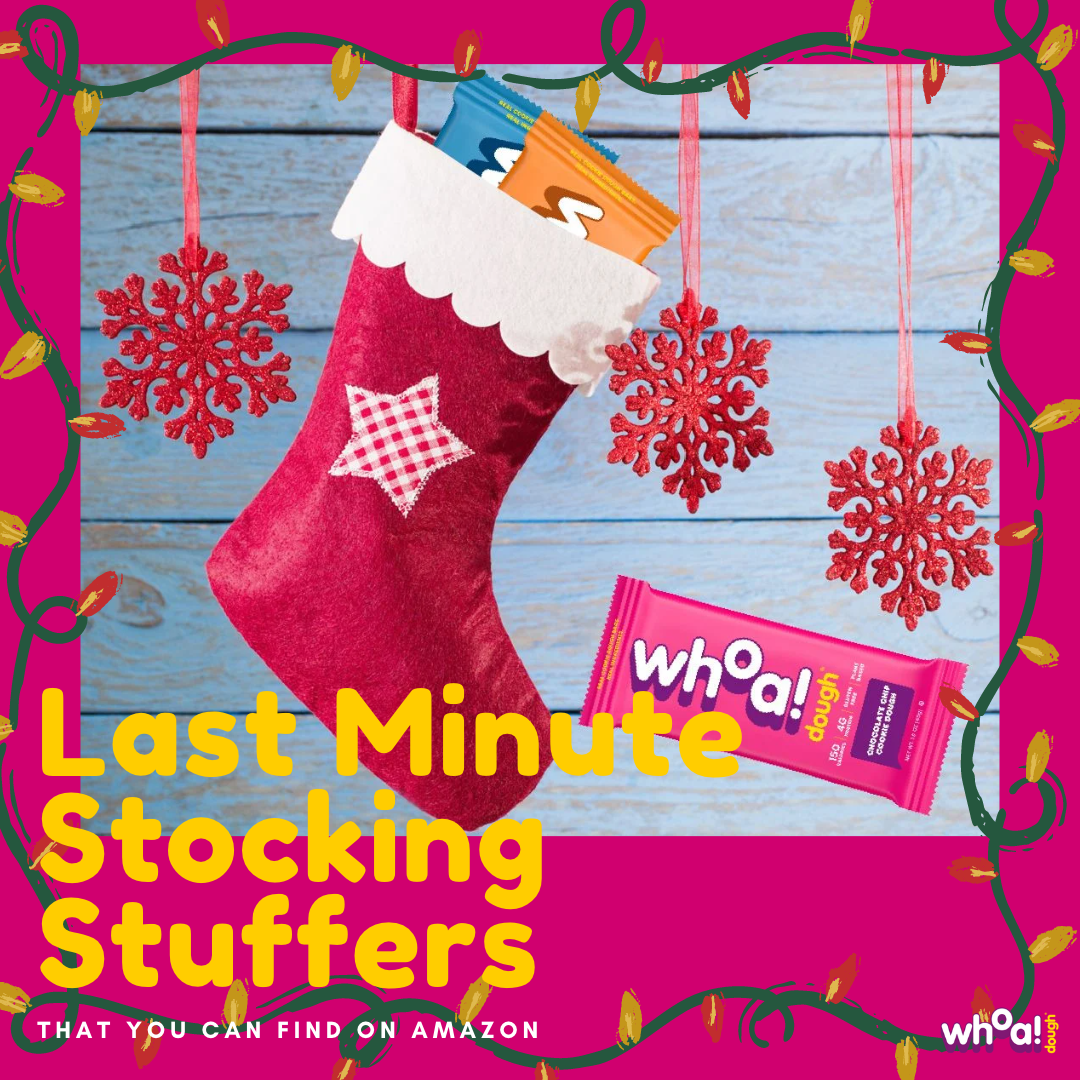 It's crunch time! Whether you celebrate Christmas, Hanukkah, Kwanzaa, or another holiday you may observe, chances are you may be in need of a little last-minute, gift inspiration. Not to fret, the Whoa Dough team is here to help fill the gaps—and those stockings! Here are ten, gender neutral, last minute stocking stuffers to help save the day.
10. Tile Item Finders
Do you know someone who tends to misplace things a lot? If you do, this would be the perfect gift for them! Tile Item Finders are under $20 and are a very practical and useful gift. I got one last year, and it has already saved me the trouble of looking for my handbag three times!
9. JBL Headphones 
While Apple seems to take the cake when it comes to all things electronic, JBL is a cheaper and just as efficient option. Some of their headphones can be found on sale for up to 50% off on Amazon during the holiday season– so act fast! 
8. Whoa Dough Bars
OK, so this one may be an obvious choice, but who doesn't love getting food as a gift? I know snacks and homemade food items are one of my favorite gifts to find nestled under my tree. As they say, food is the way to a person's heart, and when that food is cookie dough, let's just say you'll have one happy snacker. Give the gift of Whoa Dough this season! 
7. Squishmallows
Do you have kids at home? Another kid-friendly gift idea are squishmallows! They come in all different kinds of animals, food, etc., and have multiple sizes to choose from—their 5-inch ones are the perfect size for a little stocking stuffer! Even if you're not a young child, squishmallows can still be a great present. I'm a young adult, and I absolutely LOVE them! I would be lying if I said I didn't keep them in my bed with me to have something soft to cuddle every night.
6. A New Phone Case
There are so many options to choose from when it comes to phone cases, and guess what? They fit perfectly in stockings. I have always loved to have several cases at a time in order to rotate them out every so often. I recommend going with a wallet case if you're like me and prefer to have all your cards, money, and phone in one place. Here are some of my favorites, some of which will ship in time for the holidays.
5. Fuzzy Socks
Looking for something cheap and small but still beloved by all? Fuzzy socks are the ultimate stocking stuffer, especially since they're practically made for the holiday season. Nothing says Christmas morning quite like opening some gifts under the tree in your favorite pair of cozy socks.
4. FujiFilm Instax Mini 11
If you haven't hopped on board the polaroid trend, now's the time. The FujiFilm Instax Mini is the perfect sized camera to carry around to create some instant memories. Even though its packaging may be a little too big to fit inside a stocking, you can always throw some polaroid film inside and give them the camera as an additional surprise once they see the film! This one may be harder to find on Amazon before Christmas morning, but many of your big box stores carry this awesome gift. Think of all the Whoa Dough bars you can snap a polaroid of? 
3. Portable Charger
Another practical gift that never seems to go wrong is a portable charger. This is the type of gift that is usually very useful, yet no one seems to actually buy one themselves. I could be wrong here, but personally I know I never would have gotten a portable charger if it weren't for my mom giving me one as a gift. Now, I can't imagine life without it! It has saved me on countless occasions, especially when I go to plugless places like the beach (perks of being a Florida girl!). 
2. Mr. Coffee Mug Warmer
Are you surrounded by lots of avid coffee drinkers? I know coffee is a staple in my household, so I had to put the Mr. Coffee Mug Warmer on this list. This small and simple portable cup warmer keeps your coffee warm wherever you go so you don't ever have to worry about drinking lukewarm coffee—or lukewarm tea! 
1. Gift Card
This one is a no brainer. Last but certainly not least on our list is the most pragmatic gift of them all: a gift card. While everyone wants to be creative and give their loved ones the "best gift ever, sometimes all someone really wants is the freedom to buy whatever they want. 
Are you feeling more prepared? Did you click "Add to Cart" on one or more of these awesome stocking stuffers? Hopefully this last-minute gift guide helps ease your stress this holiday season! Happy Holidays!