Fall Favorites: Whoa Dough Edition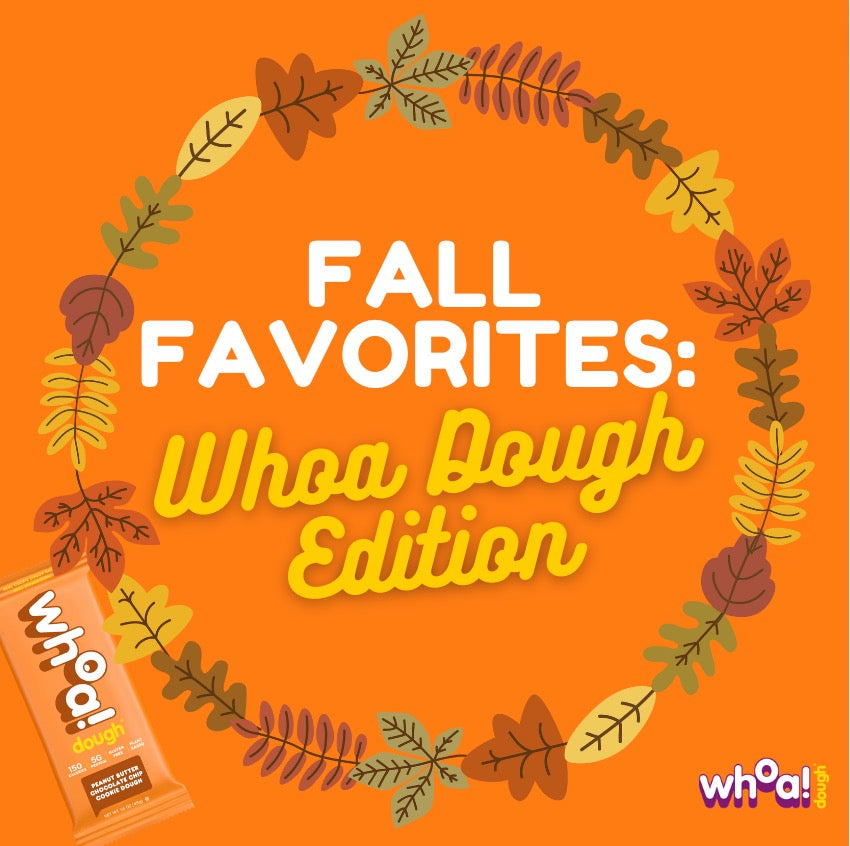 Snacks + fall flavors = G.O.A.T?
…It's now well into October, the official month of all things fall. While we don't have a pumpkin spice flavored Whoa Dough bar (yet), we do have some opinions regarding some of the best fall flavored treats to indulge in. Just like Whoa Dough, the following products are also all vegan and gluten-free. Keep reading for some Whoa Dough approved fall time favorites!
1) LesserEvil Pumpkin Spice Popcorn
With such a short list of ingredients, LesserEvil popcorn emerges as one of my favorite go-to snacks (besides Whoa Dough, duh). Their limited edition Pumpkin Spice flavored popcorn doesn't disappoint; just try it yourself if you don't believe me. Plus, it's vegan and gluten-free!
2) Undercover Dark Chocolate + Pumpkin Spice Quinoa Crisps
Craving chocolate? Well, go grab a Brownie Batter Whoa dough bar. Craving chocolate AND pumpkin spice? Okay, let me direct you to Undercover's pumpkin spice flavored dark chocolate quinoa crisps. Certified gluten-free, peanut free and tree nut free, this is the perfect chocolatey pumpkin crunch you've been looking for.
3) Hu Pumpkin Spice Dark Chocolate Bar AND Gingerbread Dark Chocolate Bar
Another delicious way to get your chocolate fix is Hu's Dark Chocolate, and they have TWO amazing fall flavors you can try (both allergen friendly of course)! Team gingerbread or pumpkin spice? 
4) Artisana Organics Gingerbread Pecan Butter
While this isn't your typical "snack" per-say, I had to include this creamy goodness on the list. To all those with peanut allergies, this is by far one of the best nut butter alternatives out there. I wait all year long for this flavor to be released... not even kidding. I tend to eat it by the spoonful, but it can also be a great addition to some of your other snack-time favorites: crackers, fruit, yogurt, oats, you name it!
5) Oat Haus's Pumpkin Spice Granola Butter
Much like the gingerbread pecan butter above, Oat Haus's Pumpkin Spice Granola Butter is another delicious alternative to those with peanut allergies. In fact, it is a great alternative to ALL nut allergies, with as their base is purely oats. Their pumpkin spice flavor is out of this world, and not to mention, it meets our standards by being top 8 allergen free!
6) Partake Foods Soft Baked Pumpkin Spice Cookie 
Go snatch this limited edition while you can! A great top 9 allergen free choice for when you are craving a pumpkin spice flavored cookie. Plus, it's soft baked! Who doesn't love a good soft baked cookie?
7) Emmy's Pumpkin Spice Cookies
Another great fall-themed cookie is Emmy's Pumpkin Spice Cookies. This is also an allergen friendly soft and chewy cookie, plus, it has coconut! If you're a coconut fiend like myself, you'll really enjoy this one. 
8) Bobo's Pumpkin Spice Oat Bar
Another delicious plant-based and wholesome bar, Bobo's offers a limited edition Pumpkin Spice Oat Bar during the fall. Love the tasteful combination of oats and pumpkin like myself? Well then you've got to try this. 
9) Blake's Seed Based Pumpkin Spice Crispy Treat
Who here loves Rice Krispy Treats? Who can't have them due to dairy, gluten, and/or soy? Well then, give Blake's a try! Their take on one of our childhood favorites is exceptional; you would never be able to tell that they're top 9 allergen free! Their pumpkin spice flavored crispy treat adds that much more of a draw!
10) Ka-Pop! Pumpkin Spice Puffs
Last but not least, we have Ka-Pop's Pumpkin Spice Puffs. Who doesn't love puffed snacks? Add some pumpkin spice to the mix, and now you've got a real winner. These puffs are top TWELVE allergen free– and are friggin' delicious. 
Hopefully you go out and try some of these delicious allergen friendly goodies. With Halloween just 3 days away, this is a great time to buy these treats; hand them out, or keep them to yourselves– we won't tell (and wouldn't blame you).