Kicking off Summer: Whoa Dough Style!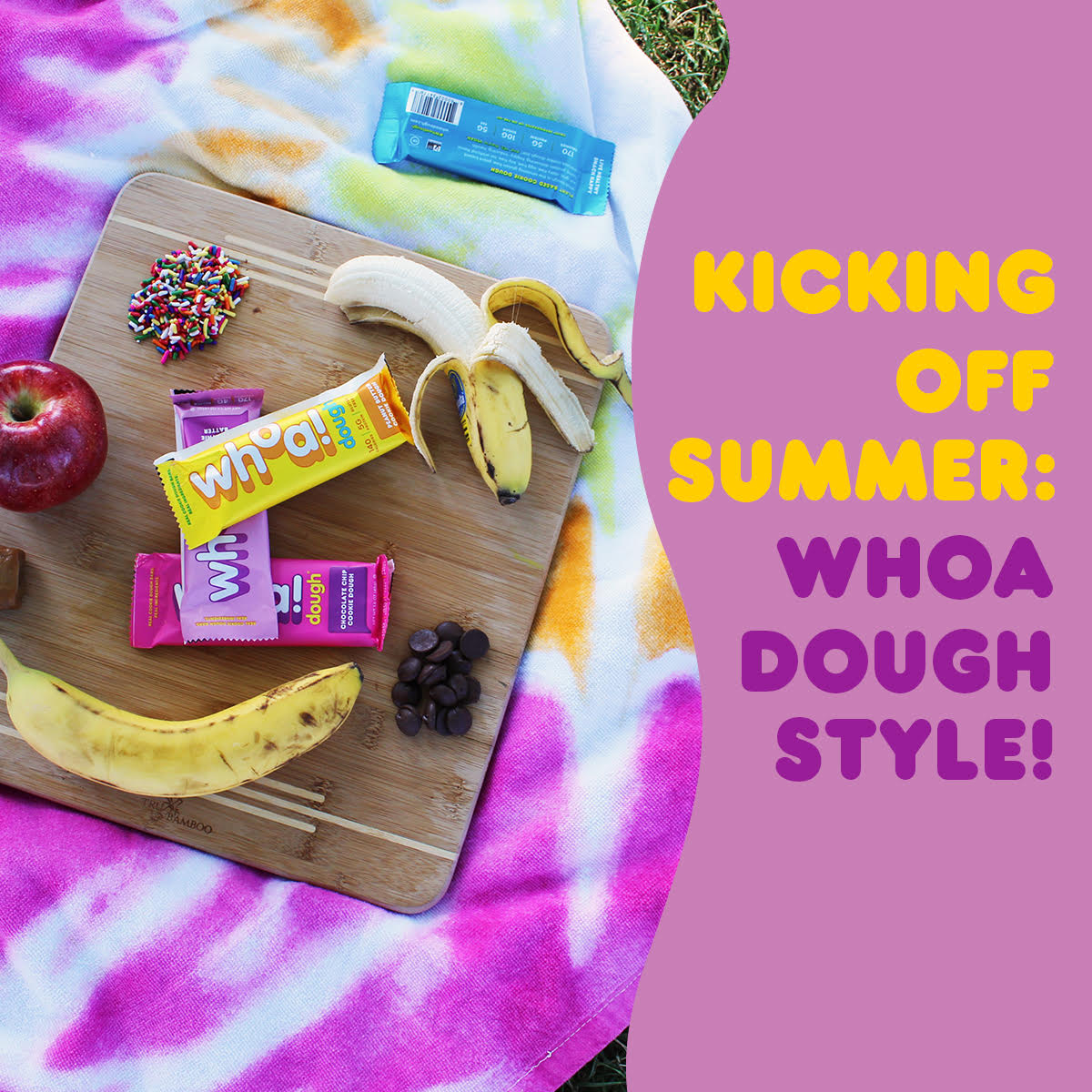 Summer vacation. A time for relaxing, refreshing, and rejuvenating. Maybe that's a day at the beach with a good book and some tanning lotion. Maybe it's a trip to a new, exciting place–or even just a trip to a familiar, favorite place. Maybe, it's just a time for relaxing at home. 
Wherever or whatever you see yourself doing this summer, there is one essential every successful summer day should include: good snacks! If there is one thing that is certain, it's the blissful comfort one feels behind having a delicious, better-for-you snack. Nothing makes you feel quite as joyful and fulfilled as the satisfactory bite of a palatable snack that you know is good for you.
Just this past week, the Whoa Dough Team had the pleasure of kicking off their summer at the Sweets & Snacks Expo in Chicago, where we got the chance to explore the floor and take home some of what happen to be our favorite summertime snacks. As an admirable member of the Whoa Dough family, we thought we would further help you kick off your summer by providing a list of some of the finest–and healthiest– sweets and snacks we came across in Chicago.
Now, before we go any further, of course Whoa Dough bars are number one on our list. I mean, come on– it's Whoa! Besides the fact that it satisfies all your indulgent summertime cravings, our six exceptional flavors provide a healthier alternative to cookie dough without sacrificing the taste. Not to mention, all of our bars are vegan, gluten-free, egg-free, soy-free, non GMO, and kosher. Plus, four out of the six of our bars are peanut-free! So, if you are in need of an allergy-friendly, better-for-you snack, or just in need of that nostalgic, jovial feeling of eating raw cookie dough during summer nights– no need to read any further!  
That being said, while we are all about eating Whoa Dough bars, who says that has to be your only summer snack? There are tons of snacks worth mentioning for you to try this summer– all in which are Whoa Dough approved! So, as promised, here is a list of ten wonderful brands we had the pleasure of sharing the trade show floor with last week:
1) Dream Pops
Much like Whoa Dough, Dream Pops is another healthy alternative that works to satisfy your sweet tooth without compromising flavor or taste. It provides a 100% plant based, gluten-free, and soy-free indulgence that tastes like ice cream–perfect for a hot summer day. Dream Pops does not use any sugar alternatives or artificial ingredients, keeping their product real and natural (getting our Whoa Dough seal of approval!).
2) UNiTE
UNiTE is another bar-based brand that works to provide you with a fun, tasty, on-the-go snack– all while remaining nutritionally balanced and allergen-friendly. UNiTE currently has three flavors of bars: Churro, Mexican Hot Chocolate, and Peanut Butter & Jelly. All three bars are gluten-free and soy-free, and even contain 10g of protein for an added energy boost.
3) Blake's Seed Based
Also working to serve the allergy-friendly community is Blake's Seed Based. Blake's has a wonderful array of products consisting of snack bars, crispy treats, and good-ole sunflower seeds–all in which are perfect for your summertime cravings! Blake's is free from peanuts, tree nuts, milk, egg, wheat, soy, and sesame– leaving you with a product that is not only safe from top allergens, but also healthy and delicious.
4) N!ck's
N!ck's is yet another health conscious brand that works hard to meet your summerly needs. Maybe you want to cool down on a scorching hot day with some of N!ck's delectable ice cream, or perhaps you just want a nice and quick energy boost from their delicious snack bars. Whichever product you choose, just know you are getting a healthier, and lighter alternative that will satisfy your cravings. N!ck's offers lower sugar, and derives their sweeteners from things like raisins, monk fruit, birch trees, and more! They also strive to keep most of their products gluten-free and keto-friendly.
5) Thunderbird
Up next on our list is Thunderbird. Their products are plant-based, paleo certified, and non-GMO. Like Whoa Dough, they look to provide you with an on-the-go bar that is made from real, high quality ingredients for guilt-free snacking. Thunderbird bars are packed with micronutrients, and they keep their ingredient list short, clean, and simple.
6) GoodSam
GoodSam not only works to make food that is good for you, but food that is good for the planet and farmers as well. Their mission is centered around humanness and creating real opportunity & change– something we at Whoa Dough are 100% here for! They have a great selection of snacks for the summer, including delightful chocolate bars and candy-coated nuts– both of which are sourced from regeneratively farmed ingredients. Their products are non-GMO, vegan, gluten-free, keto, and sugar-free, using only allulose as a sweetener.
7) Landmade
One of my personal favorite go-to snacks during the summertime are acai bowls. Landmade provides the perfect products to add to any kind of acai, smoothie, oatmeal, or yogurt bowl. Their products include superfood granolas and Go Bites. Even if you are not big on acai bowls, the great thing about Landmade's products is their flexibility to be a multitude of different snacks! You can even enjoy their product by itself. In fact, their peanut butter granola is the perfect sized cluster for snacking right out of the bag, as well as their Go Bites– which are basically bite-sized pieces for on-the-go snacking, just like the name suggests! Additionally, Landmade products are gluten-free, filled with antioxidants, and are fiber rich. 
The following three brands not only serve as a great summer snack, but also as a great source of protein for a possible meal replacement:
8) Battle Bars
Battle Bars is a veteran owned brand all about providing a better-for-you product while also serving as a source of fuel– on and off the battlefield– without any artificial sugars or filler-materials. This company strives to #fuelyourfight with their product, ensuring that each bar is packed with natural and tasty ingredients as well as a big punch of protein. Oh, and did I mention that it is also gluten-free?
9) ProBar
ProBar has quite the offering when it comes to protein packed, better-for-you snacks and meal replacements. ProBar is a great way to fuel through a hot summer day, with every ProBar product containing wholesome, plant-based ingredients such as chia, flax seeds, and agave nectar, as well as some clean, plant-based protein. ProBar products include meal, protein, and snack bars, as well as energy chews and snack thins. All products are organic, gluten-free, non-GMO, and kosher, ensuring that their products satisfy popular needs.
10) JiMMY! Functional Snacks
JiMMY! has a range of high protein, low sugar snacks that are even gluten-free! Their products consist of bars and dessert cups which host functional ingredients like immune boosting fruit, collagen, turmeric, guarana caffeine, and keto friendly nuts. 
Hopefully you check out these ten wonderful brands and give them a try. We hope you have a wonderful start to your summer!