7 Most Frequently Asked Questions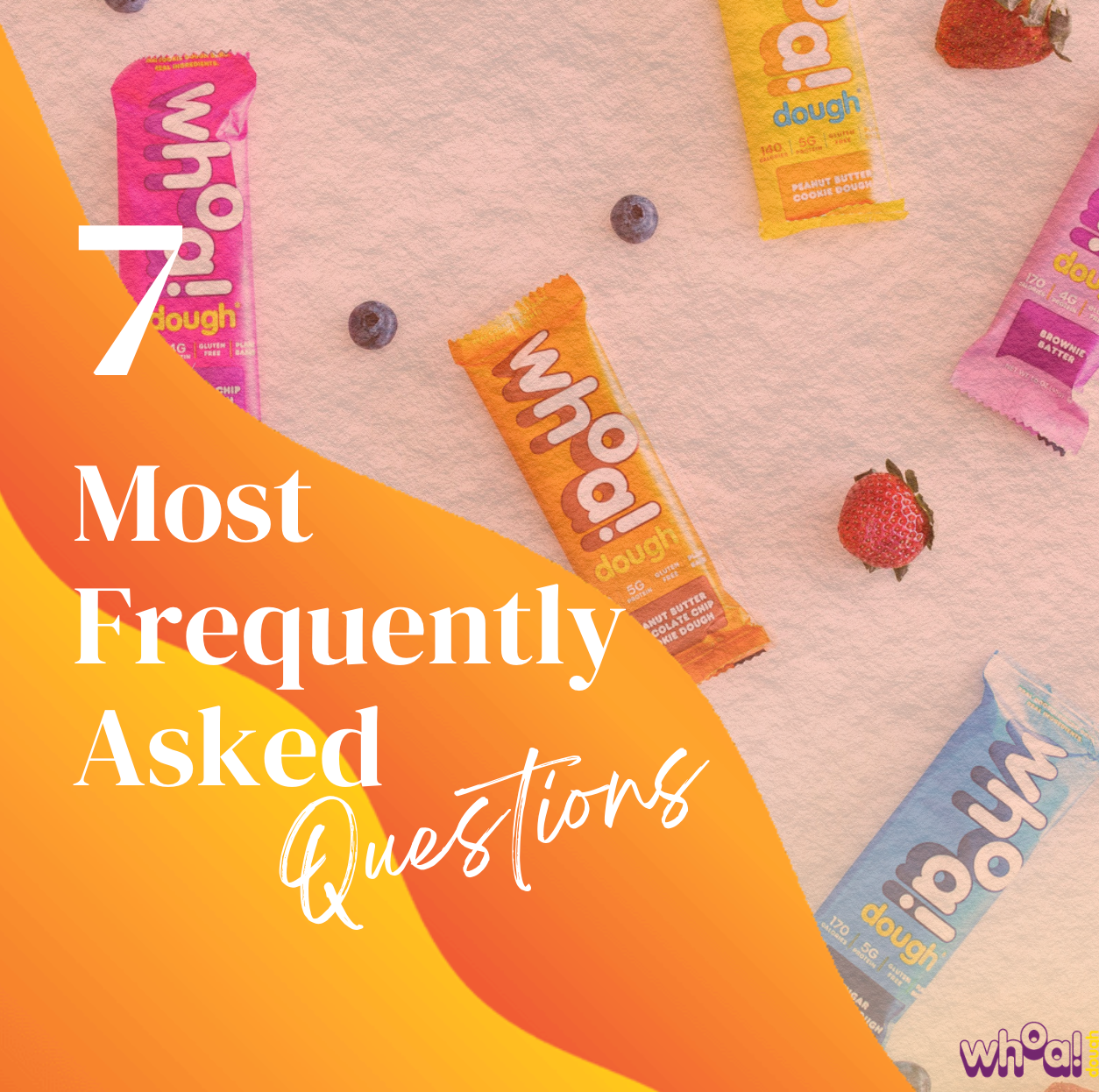 What is Whoa Dough?
Whoa Dough is a plant-based, allergen-friendly, cookie dough bar. We have something for just about everyone out there, with 4 out of 6 of our products being top 8 allergen free. Whether you're vegan, gluten-free, lactose intolerant, or don't do soy– you can enjoy all six of our delicious bars! If nuts don't work for you, that's fine too! We have 4 flavors that are nut-free!
So, what exactly is in Whoa Dough?
Nothing! Nothing bad, that is. With our elimination of gluten, soy, egg, dairy, and other top allergens, we often get the question of what exactly is in our bar. The base of our Whoa Dough bars are a combination of gluten-free oat and chickpea flour, allowing our bars to contain a boost of both grain (from the oat), and protein (from the chickpea). We also sweeten our bars with allulose and brown sugar– both 100% natural, plant-based sweeteners. 
How did Whoa Dough get its start?
Whoa Dough was founded after our CEO Todd Goldstein and his three boys were diagnosed with a severe gluten intolerance. Todd thought his cookie dough eating days were over until he came up with this snack-happy, natural, cookie dough bar that could satisfy both his family's sweet tooth, and allergen needs. After two years and dozens of recipes, Whoa Dough was born. 
What makes Whoa Dough so good?
Whoa Dough is different than most. Unlike your typical snack bar or jar of cookie dough, Whoa Dough has no artificial ingredients, and doesn't contain a bunch of unnecessary added sugar. You can eat a Whoa Dough bar and have no guilt about it afterwards, it is good for you, and it tastes exactly like cookie dough! There is nothing better than being able to eat something sweet, and knowing you won't have to worry about it later.  
Where can I buy Whoa Dough?
 If you're in the United States, you're in luck! You can purchase amazing Whoa Dough bars straight from our website as well as on Amazon. And If you're in Ohio– you're luckier than most (and how many times do you usually hear you're lucky to be in Ohio?) as it's in Heinen's and Giant Eagle. Of course, for those of you not as lucky to be in Ohio, we are also in TJ Maxx, Paper Source, Festival, Tops, and Central Market, just to name a few. We are making our way into more retailers as we speak, so make sure to subscribe to our newsletter, and be on the lookout for updates! 
What's next for Whoa Dough?
Whoa Dough has a lot of exciting products in the works, from new product lines to brand new bar flavors, we're always brainstorming new innovative ways to expand our lineup! Our goal is to continue servicing our allergen-free communities, as well as those who admire a healthier lifestyle. 
Where can I find Whoa Dough on social media?
 Whoa Dough is taking over social media right now! You can find us on various platforms such as Instagram, Twitter and TikTok. Our Instagram and Twitter handles are both @Whoadough_, and our TikTok handle is @Whoadough. Make sure to check them out and give us a follow!
By: Lena Gargiulo