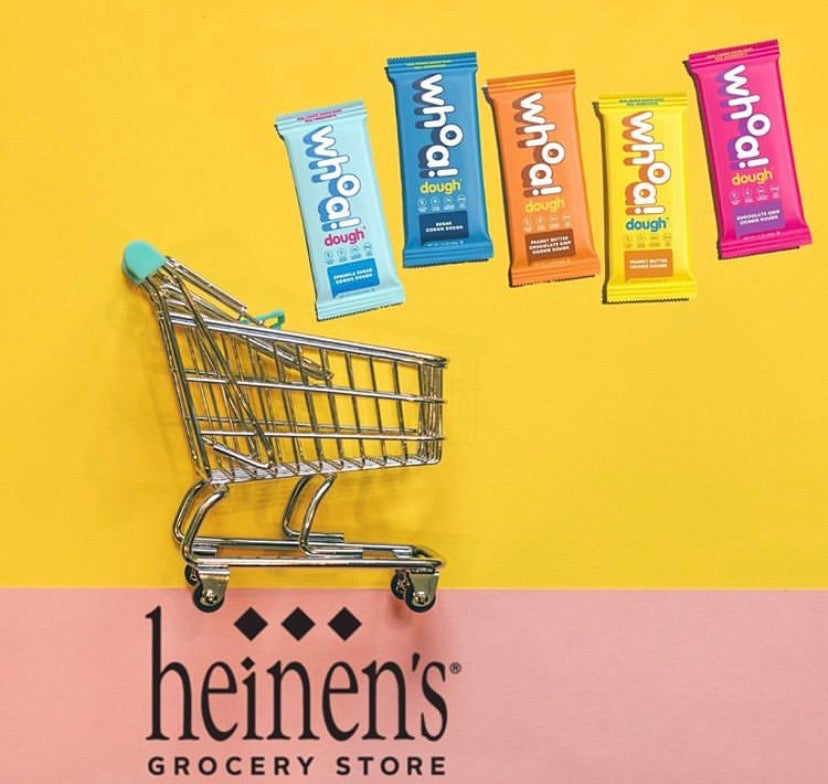 CLEVELAND, OH - September 20, 2019 -- Whoa Dough announced today they will be launching their five cookie dough bars in all Heinens' stores across both Ohio and Illinois. The expansion is a part of Whoa Dough's goal to be sold nationwide while still keeping strong local ties to the Cleveland area. Consumer Reports' reader ratings, which were published in April of this year, ranked Heinen's third overall in supermarkets across the country. 
Whoa Dough is a line of on-the-go cookie dough bars that are Gluten Free, Dairy Free, Plant Based,  and Non GMO Project Verified. "Real Cookie Dough Bars. Real Ingredients." The bars comes in five flavors: Sugar Cookie Dough, Sprinkle Sugar Cookie Dough, Chocolate Chip Cookie Dough, Peanut Butter Cookie Dough and Peanut Butter Chocolate Chip Cookie Dough. The colorful packaging in shades of bright blue, light blue, yellow, orange, and pink makes them easy to find on the shelf.  The bars can be enjoyed chilled, on-the-go, or baked at 350 degrees for 3-5 minutes. 
To celebrate the launch and get consumers excited about the product, Whoa Dough will be sampling the product out of various Heinen's locations over the next few months. The samplings started over the weekend at the Pepper Pike and University Heights locations and will continue with Rocky River and Brainbridge from 10 AM - 1 PM on Saturday and Brecksville 10 AM - 1 PM on Sunday. 
About Whoa Dough
Whoa Dough was founded in 2018 in Cleveland, OH by entrepreneur and self-proclaimed "foodie," Todd Goldstein. In 2011, Goldstein was diagnosed with a gluten intolerance and began his hunt for gluten free products. When his sons were born in 2015 and 2017, they were also diagnosed with a gluten-intolerance, increasing his desire to create a gluten-free treat. 
Whoa Dough was invented with the idea that health is all about balance. With that in mind, Whoa Dough developers created a real indulgence that reward those who work hard to live a healthy lifestyle. Whoa Dough cookie dough bars are gluten free, dairy free, soy free, egg free, Non-GMO Project verified, OU Kosher certified and can be eaten on-the-go. Whoa Dough launched in July of 2019 after a year-and-a-half of research & development and now includes five flavors: Sugar Cookie Dough, Sprinkle Sugar Cookie Dough, Chocolate Chip Cookie Dough, Peanut Butter Cookie Dough and Peanut Butter Chocolate Chip Cookie Dough. Whoa Dough cookie dough bars have a shelf-life of six months and can be eaten at room temperature, chilled or baked. Visit www.whoadough.com for more information and follow @whoadough_ on social media.
About Heinen's 
In 1929, Joe Heinen opened the doors of a small butcher shop on the east side of Cleveland, Ohio, aiming to establish himself as the city's purveyor of quality meats. As customers came into Heinen's new shop for their meat purchases, they began asking him to carry groceries as well. Joe added homemade peanut butter, pickles and donuts and by 1933, business had grown enough to include a line of produce and canned goods. Heinen's Grocery Store was born.
Today, grandsons Tom and Jeff Heinen lead their team of knowledgeable associates in continuing to serve area customers by delivering on Joe's original philosophy … to provide world-class customer service while offering the freshest, highest quality foods. Twenty-three neighborhood Heinen's Grocery Stores now serve various communities throughout Northeast Ohio and the Greater Chicago area. We look forward to continuing our work as the local, family-owned and operated grocery store. For more information, visit https://www.heinens.com/.
Contact:  
Hannah Hines
Hannah@WhoaDough.com
847-350-8409