Now Available at Area Whole Foods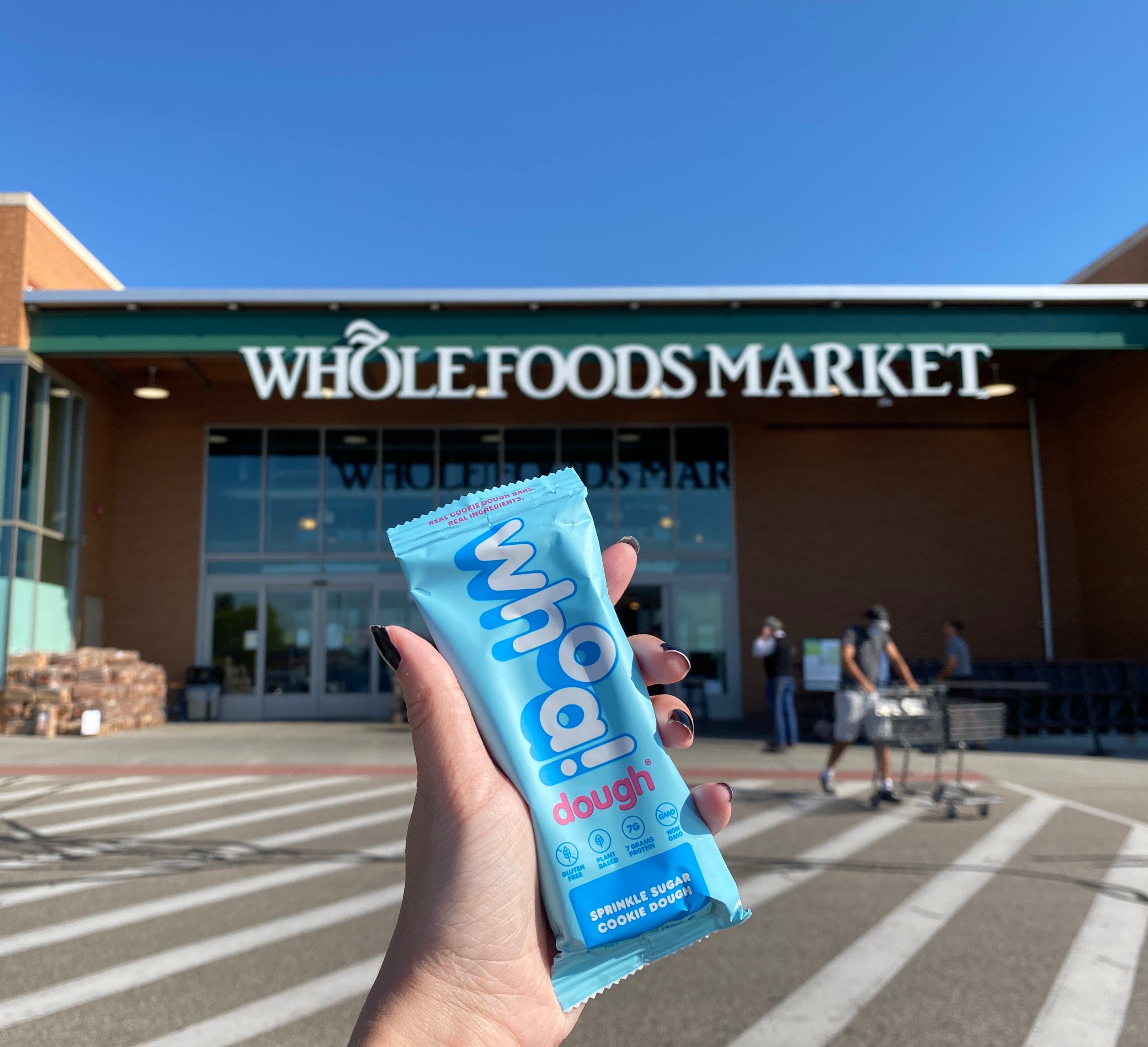 Cleveland Local Company, Whoa Dough, Now Available at Area Whole Foods
CLEVELAND, OH - June 17, 2019 -- Whoa Dough has launched three of their most loved cookie dough bars at the Whole Foods in Rocky River and Orange Village (Pinecrest). The expansion is a part of Whoa Dough's goal to be sold nationwide while still keeping strong local ties to the Cleveland area. The flavors available at Whole Foods are Sprinkle Sugar Cookie Dough, Peanut Butter Chocolate Chip Cookie Dough, and the classic Chocolate Chip Cookie Dough which can be found in the refrigerated section.  
Whoa Dough is a line of on-the-go cookie dough bars using only 9 ingredients that are Certified Gluten-Free, Dairy-Free, Plant-Based, OU Kosher,  and Non-GMO Project Verified. "Real Cookie Dough Bars. Real Ingredients."  The colorful packaging in shades of light blue, orange, and pink makes it easy to find on the shelf.  The bars can be enjoyed chilled, on-the-go, or baked at 350 degrees for 3-5 minutes. 
"Whoa Dough was created with the idea that health is all about balance. With that in mind, we created an indulgence that rewards those who work hard to live a healthy lifestyle,"  said Todd Goldstein, Founder of Whoa Dough. "The bars are an ideal match for the product lines at Whole Foods and we look forward to expanding into additional regions throughout the country."
About Whoa Dough
Whoa Dough was created in 2018 by Todd Goldstein, a Cleveland entrepreneur and "foodie" who spent the last decade helping entrepreneurs get their start. In 2011, Goldstein was diagnosed with gluten intolerance which began his hunt for gluten-free products. When his sons were born in 2015 and 2017, they were also diagnosed with gluten-intolerance which only further increased his desire to create a gluten-free treat. Recognizing that the cookie dough market was a growing trend, but still left those with allergies in the "raw," Todd and his team got to work and 19 iterations and a year-and-a-half later, Whoa Dough was created.
Whoa Dough now includes five flavors: Sugar Cookie Dough, Sprinkle Sugar Cookie Dough, Chocolate Chip Cookie Dough, Peanut Butter Cookie Dough, and Peanut Butter Chocolate Chip Cookie Dough. Visit www.whoadough.com for more information and follow @whoadough_ on Instagram.
About Whole Foods
Founded in 1978 in Austin, Texas, Whole Foods Market is the leading natural and organic foods supermarket, the first national "Certified Organic" grocer, and uniquely positioned as America's Healthiest Grocery Store. In the fiscal year 2016, the Company had sales of approximately $16 billion and has more than 460 stores in the United States, Canada, and the United Kingdom. Whole Foods Market employs approximately 87,000 team members and has been ranked for 20 consecutive years as one of the "100 Best Companies to Work For" in America by Fortune magazine. For more information, please visit www.WholeFoodsMarket.com or @WholeFoods on Twitter.
Contact:  
Todd Goldstein
Todd@WhoaDough.com