Whoa Dough's Easter Basket Gift Guide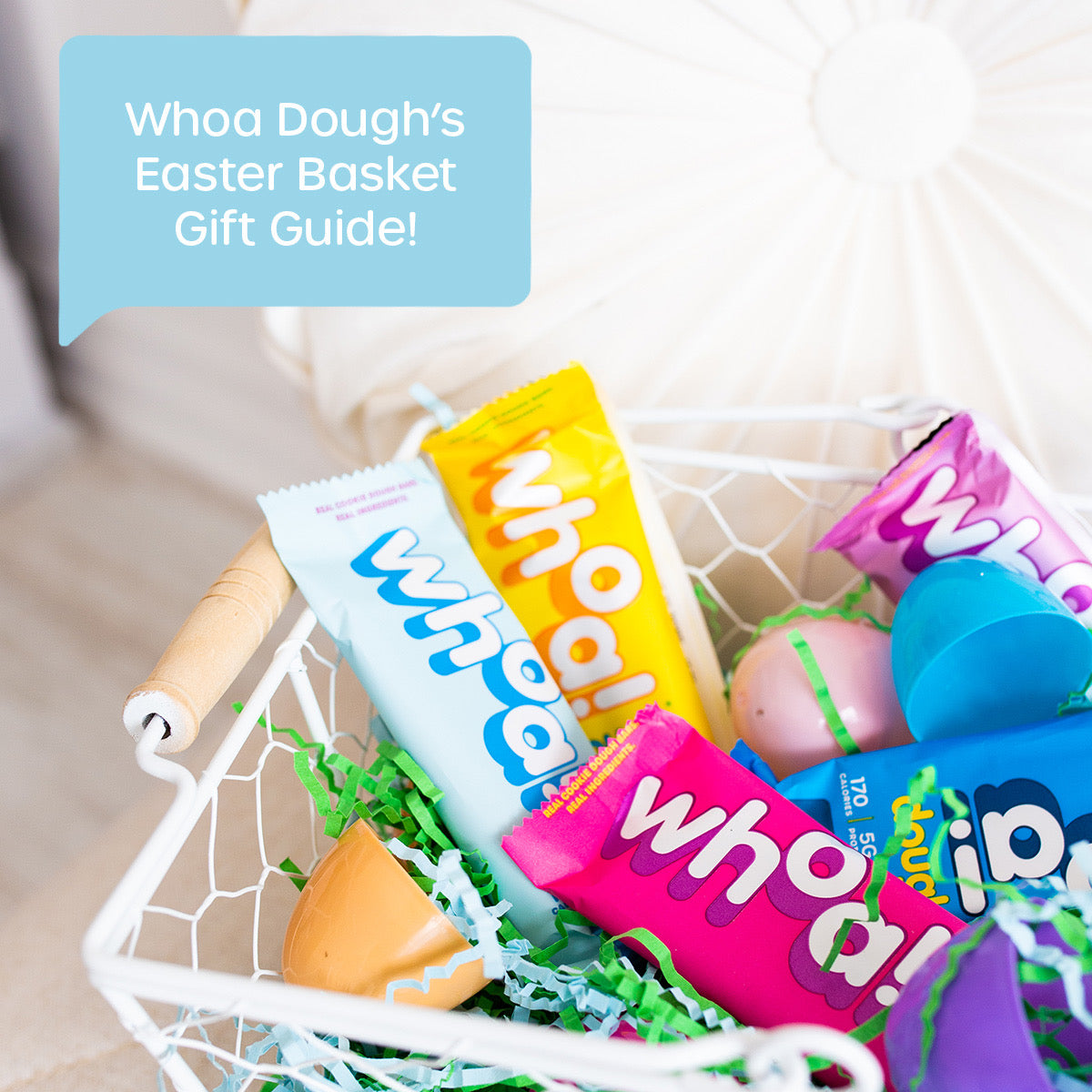 Whoa Dough is here to help you make Easter even more egg-cellent than you imagined. We have provided you with some of the yummiest traditional Easter treats to make the day as sweet as possible. Better yet? All of these products are entirely gluten free and vegan so you can enjoy yourself completely without compromise. Take a look at these allergy friendly treats and hop onto their websites to grab yours before Easter!
1. YumEarth: Easter Jelly Beans
Looking for a healthy twist on an Easter favorite? YumEarth's Easter jelly beans are the new jelly beans in town. They are 100% organic, non-GMO, gluten free, vegan and entirely free from the top allergens. Flavors in the new Easter jelly bean pack include mango tango, perfectly peach, pomegranate pucker and awesome apple. YumEarth also makes lollipops, gummy bears, fruit snacks, chewy candies and licorice. Stock up on your allergy friendly beans for all your egg hunts and easter baskets by visiting their website with the provided link!
2. Whoa Dough: Cookie Dough Bars
Nothing screams sweet like your family favorite cookie dough! At Whoa Dough, we are on a mission to bring more snack-happiness to the world to reward healthy eaters. All six dough-licious flavors are certified gluten-free and vegan, as well as contain 4–5 grams of protein and less than 10 grams of sugar. We responsibly source sustainable 100% plant based ingredients all without junk, artificial ingredients or compromise. How's it possible? Simple. We keep the no's out and the whoa's in. Better yet? We don't pull any flavor punches. Whoa Dough has truly challenged the "status dough" by bringing a safe, satisfying snack that has the taste and texture just like your grandma's classic cookie dough. Be sure to head over to our website to get your furry feet on these great treats! 
3. Unreal: Dark Chocolate Coconut Bars 
The name of the company truly speaks for itself. Unreal was launched so everyone can enjoy out of this world, all natural chocolate snacks without all the excess sugar. Unreal chocolate coconut bars contain 51% less sugar than the leading brand and are made with only three simple ingredients: coconut, cassava syrup and dark chocolate. They are non-GMO, as well as certified gluten free and vegan. Even better, these unreal treats are sweetened without artificial flavors, corn syrup or sugar alcohols. The company offers a wide variety of gluten free, vegan chocolates including dark chocolate peanut butter cups, dark chocolate almond butter cups and dark chocolate crispy quinoa gems. Be sure to check out their website for more information!
4. Emmy's Organics: Soft & Chewy Coconut Cookies 
Emmy's Organics is a gluten free, vegan and organic snack company that creates delicious, clean treats with the highest quality ingredients. Some of Emmy's cookie flavors include vanilla bean, chocolate chip, dark cacao, peanut butter, birthday cake and lemon ginger. Their cookies come in a variety of different packages, with multiple cookies to share, a single serving pack or a slim grab & go sleeve. Aside from their scrumptious sweets, Emmy's has deep rooted values in social justice and charitable giving by donating a portion of revenue towards social and environmentally friendly organizations. Emmy's doesn't stop at coconut cookies… they also offer chocolate covered cookie bites, brownie snaps and even a new line of baking mixes! You don't want to miss Emmy's on Easter- go check out their website today!
5. Smashmallow: Snackable Marshmallows
Smashmallow is no ordinary marshmallow. They are home of the real peep show. These delicious marshmallow treats are whipped to perfection from all natural, gluten free, non-GMO ingredients. Never made with any artificial ingredients or added preservatives, these treats are just like you remember- only better. This special easter basket edition features a few fan favorite flavors including toasted vanilla, cinnamon churro and cookie dough. A few of their other fantastic flavors include mint chocolate chip, dark chocolate dipped cold brew and a variety of rotating holiday flavors! Check out their website to snag an egg hunt pack of marshmallows to build a better easter basket naturally!
6. Partake: Crunchy & Soft Baked Cookies 
As an allergy friendly company, Partake wants you to be able to partake in all the joys of life without missing out due to allergies. With that being said, all Partake products are gluten free, vegan and free from the top nine common allergens. Partake offers both crunchy cookies as well as soft baked cookies truly giving you the best of both worlds! Some of their most popular cookie flavors include chocolate chip, birthday cake, ginger snap, double chocolate and their newest release, lemon!. Partake isn't only craveable cookies, they also offer a variety of breakfast and baking mixes including pancake & waffle mix, pizza crust mix and brownie mix making it super easy to whip up a healthy treat. Do not persist with partake! Go take a look at their website to partake in the delicious world of allergy friendly treats.