Swing into Spring: Best Outdoor Family Activities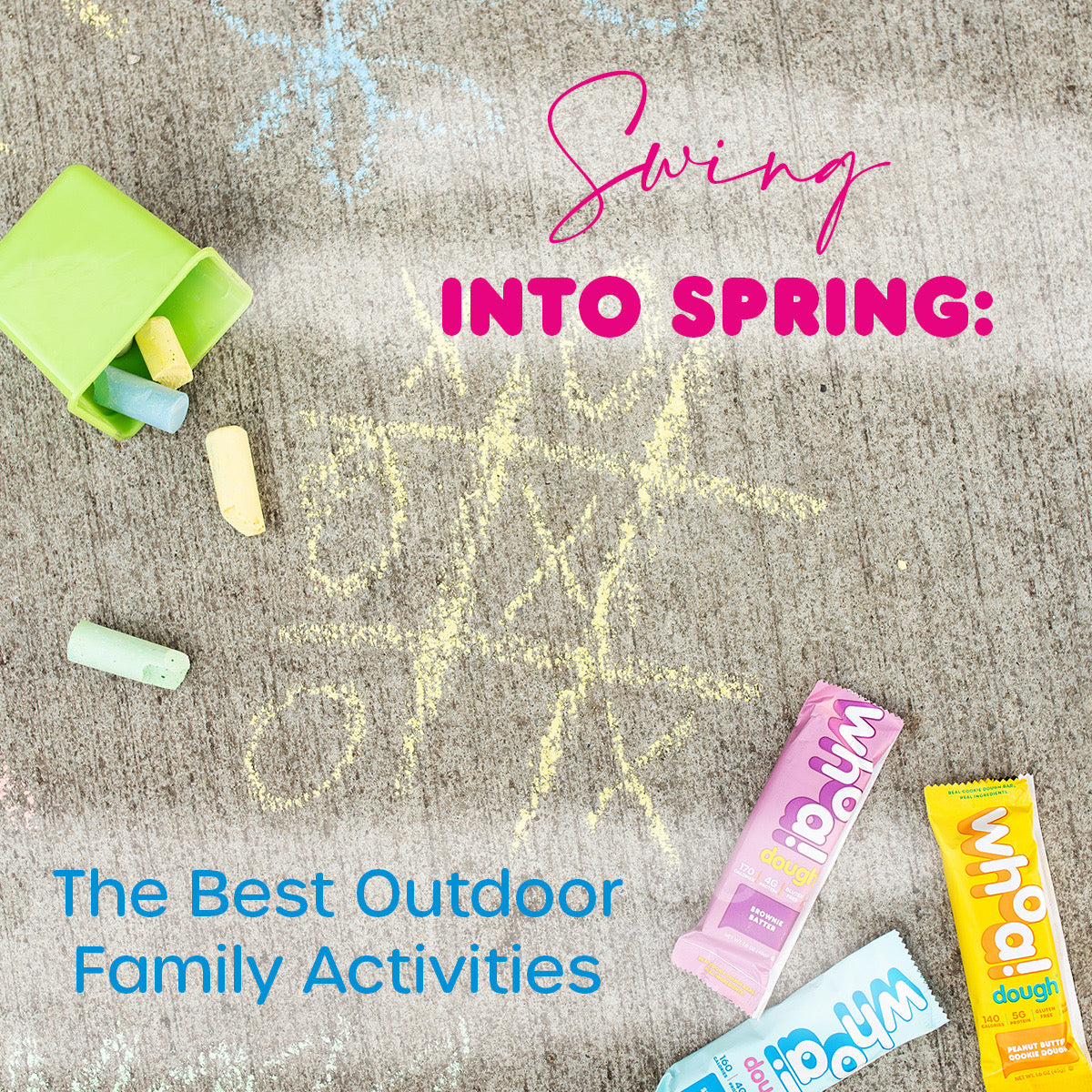 Spring is officially upon us! After a long, cold winter there's truly no better way to unwind than spending time outside underneath the shining sun with friends and family. There are so many great spring activities to choose from and Whoa Dough has listed few of our favorite ideas to inspire you!  
Plan a Picnic 
Whether it be at your local park, beach or even your own backyard, a picnic is the perfect activity for families of all ages! Bring some delicious sandwiches and snacks along with a big blanket and you are good to go! It's truly that simple. Oh and don't forget to pack a few of your favorite Whoa Dough bars for dessert :)
Go to the Park
Go to the park and let nature be your playground! Parks aren't only great for swinging, riding the seesaw, or attempting the jungle gym, but can also act as a great spot to walk, bike ride or have a picnic. The opportunities are truly endless!
Go for a Bike Ride 
Time to break out the wheels and get moving! There's truly no better way to experience the sweet spring air than by feeling the wind through your hair and the fresh breeze on your face. Whether you choose to ride through your neighborhood, to the local park, or even on a designated bike path make sure to wear your helmet for optimal safety! 
Check out your local Farmer's Market or Food Festival
Finally a Saturday with no plans or appointments? Have yourself a wholesome day by roaming around and exploring your local farmers market! It is not uncommon for most towns or cities to hold at least one market throughout the weekend during spring. Markets are the best place to purchase the freshest produce, support local, small businesses, as well as taste test and sample new products! Depending on the size of the market, you will without a doubt always find something for everyone in the family to enjoy!
Take a Hike
Getting bored of your normal stroll around the neighborhood? Switch things up and go on a hike! Take a look at your town's local trails online and pick one that best suits your family's hiking abilities. If you want to keep it easy opt for a flatter or shorter hike. Or if you're feeling up for a challenge you may choose a longer, more difficult trail. Either way be sure to pack plenty of water and a couple of Whoa Dough bars for a nutritious and delicious mid-hike pick me up!
Go Fruit or Flower Picking 
You know what they say… April showers bring May flowers! May is usually the time of year when most plants, flowers and fruits all begin to bloom after a long, quiet winter. Take advantage of the harvest and visit your local farm to pick your own fruits and vegetables, or even flowers! Depending on the region in which you live, the optimal time for picking your own produce can vary from late spring until the end of the summer. However, if the fruit is not fully ripe yet you can usually graze the fields and cut your own flowers to bring home a beautiful bouquet. 
Purchase Tickets to the Zoo or Amusement Park
Animals or roller coasters, which one do you prefer? Either option can be made into a super fun and adventurous family activity. Be sure to plan ahead and purchase tickets online beforehand to secure a spot for your family. Additionally, you won't want to forget your camera, water and plenty of Whoa Dough for on the go snacking!
We hope these ideas inspire you to soak up the sunshine and spend your spring outdoors. Be sure to tag and mention Whoa Dough on Instagram so we can see how you have decided to #snackhappy this spring season!