Red, White, and Whoa Dough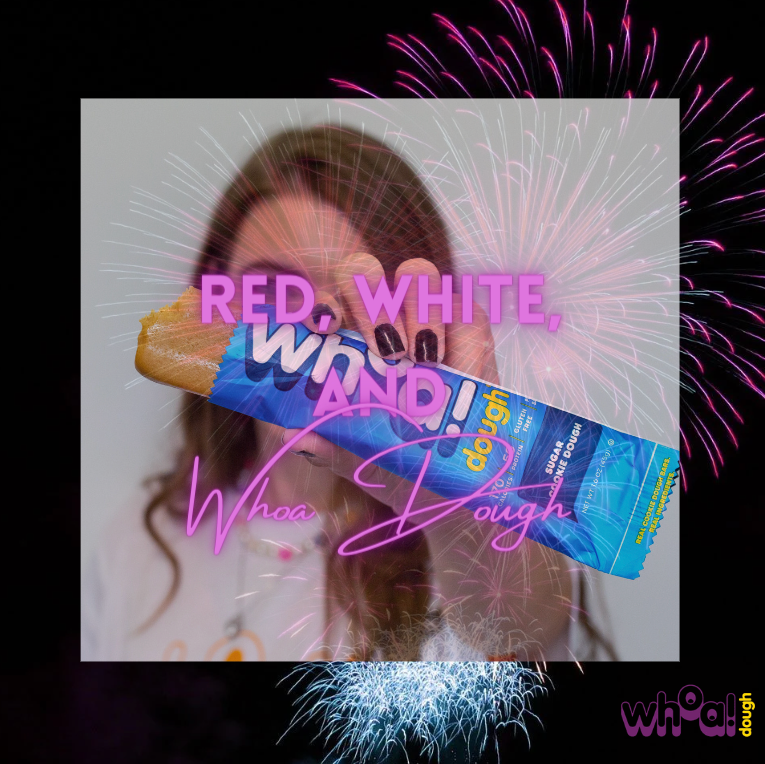 Can you believe June is almost over? In just 5 short days, we will already be celebrating Independence Day! I don't know about you, but I always find that after July 4th hits, the rest of summer goes by like the snap of a finger (or like the bite of a Whoa Dough bar, if you know what I mean😉). Rather than thinking about how the end of summer is fast-approaching, here are some things you can do this July 4th weekend to make the most of your summer.
Make some Red, White, and Blue Cookie Dough Balls! 
What you will need:
Sugar Cookie and Sugar Sprinkle Cookie Whoa Dough bars

Red and blue food coloring

Sprinkles
Visit our TikTok for more details! (@Whoadough) https://www.tiktok.com/@whoadough/video/7115091652091333930?is_from_webapp=1&sender_device=pc&web_id=7105084845119555118
Host a pool party! 
Invite some friends and family over for some fun in the sun! Inflate some red, white, and blue floaties, get a few star-spangled beach balls, and throw on some Independence themed swimwear. Plus, we have the perfect snack that goes along with a day by the pool– your red, white, and blue cookie dough balls!
Make some cool 4th of July themed crafts!
One cool craft you can try this 4th of July is creating some fireworks in a jar! Using just oil, water, and food coloring, you can create a vibrant, colorful reaction that reminds you of fireworks! First, fill a jar ¾ of the way with warm water. Next, combine 3 tablespoons of oil and a few drops of different food colorings in a separate bowl. Use a fork to mix the oil and food coloring together, and then pour it into the jar of water. Watch the reaction of the food coloring with the water! 
Learn more about the science behind this at https://www.icanteachmychild.com/fireworks-in-a-jar/.
Watch some fireworks!
Whether you decide to go out to watch the fireworks, or you set them off yourself, you can't have 4th of July without them! There is no better way to spend the evening than watching beautiful pops of color explode in the sky with your friends and family. Don't forget to bring a picnic blanket and some bug spray, and while you're at it, pack some Whoa Dough bars as well!
Break out the sparklers!
In addition to fireworks, another essential part of July 4th are sparklers. They are fun, festive, and the perfect prop for some adorable photos! You can make a game out of them– using the sparkler as a timer, try reciting different categories of things and see who can rattle off the most before the sparkler burns out!
Watch a family movie!
You can also set up a big screen outside in order to project a movie under the fireworks! Pick a good patriotic movie, get some blankets and some popcorn, relax, and enjoy watching a movie outside with your friends and family.
**Whoa Dough Tip: Add some torn up Whoa Dough bars to your popcorn for a delectable sweet and salty treat.
No matter what you choose to do this 4th of July weekend, don't forget to enjoy it! As I mentioned before, summer will be over before you know it, so cherish these moments you have with your friends and family.