New Year, New Healthy Snacks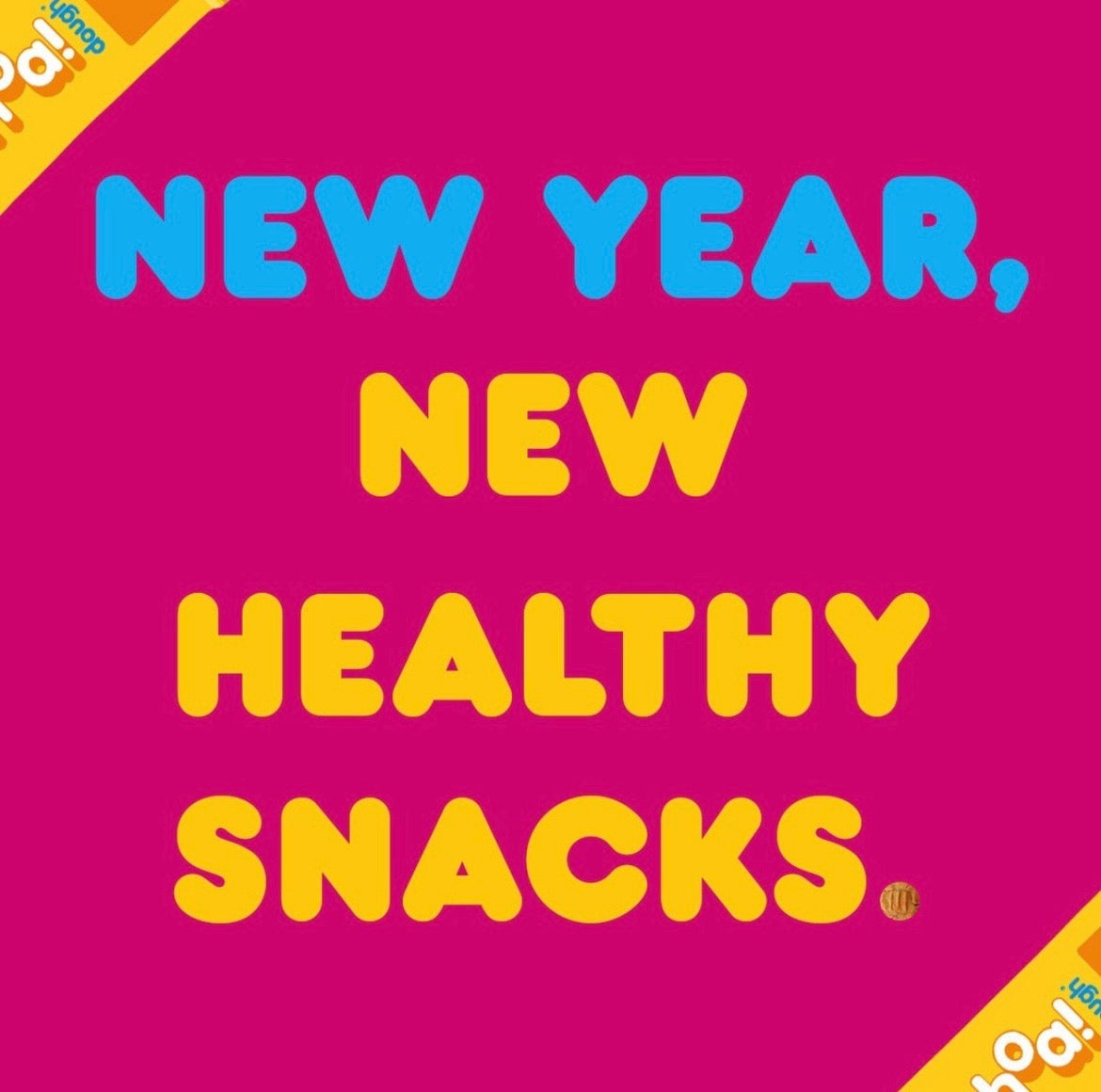 What better way to kick off the start to the New Year than with some nutritious, healthy snacks! Whoa Dough is here to help with a list of our top 10 favorite brands to make eating healthy foods even more enjoyable and easier than ever. 
The Dairy Free Company makes great tasting, clean-label, plant-based dips, spreads and toppings. Made from sustainably sourced ingredients Dairy Free Company's plant-derived recipes are sure to be the most satisfying part of a healthy lifestyle. All of the company's products are certified gluten free, vegan and non-GMO project verified. 
Dairy Free Company's Top Products: 
Take it Cheezy Cashew Dip

Schmiracle Everything Bagel Cashew Spread

Dollop Lama Sour & Cream Cashew Topping

Garden Party Roasted Garlic & Herb Cashew Spread

Tuscan Sun Sun-Dried Tomato Cashew Spread

Hot Mama Spicy Chipotle Cashew Dip
2) OLIPOP
OLIPOP tastes like the soda you grew up sipping, but with a healthful twist. Made with plant fiber, prebiotics and botanicals, OLIPOP supports digestive health making soda healthier and more delicious! All of OLIPOP's soda are free from artificial sweeteners and contain ⅓  of your recommended daily fiber intake. Additionally, all of OLIPOP's products are gluten free, vegan, GMO free and contain only 2-5 grams of sugar per can. 
Not only can you shop the individual flavors online, you can also subscribe to OLIPOP's subscription service! OLIPOP on Repeat ensures you never run out of OLIPOP soda and guarantees free shipping and money savings on every order. 

OLIPOP's Top Products:
Vintage Cola

Classic Root Beer

Strawberry Vanilla

Classic Grape

Ginger Lemon

Cherry Vanilla

Orange Squeeze 
3) Whoa Dough
You dough-n't already know about Whoa Dough??? 
Whoa Dough is a cookie dough company on a mission to bring more snack-happiness to the world to reward healthy eaters. Sweet, right? All six Whoa Dough flavors are certified gluten-free and vegan. Plus, each dough-licious bar contains 4–5 grams of protein, less than 10 grams of sugar and 100% plant-based ingredients. We responsibly source sustainable ingredients all without junk, artificial ingredients or compromise. How's it possible? Simple. We keep the no's out and the whoa's in. Better yet? We don't pull any flavor punches. Whoa Dough has truly challenged the "status dough" by bringing a safe, satisfying snack that has the taste and texture just like your grandma's classic cookie dough. 
Additionally, with Whoa Dough's non refrigerated recipe, our bars can be kept in your purse or backpack for an easy, accessible treat on the go! Each delectable bar can be purchased individually, in a pack of four or a pack of ten. 
Whoa Dough's Products:
Chocolate Chip Cookie Dough 

Brownie Batter Cookie Dough 

Peanut Butter Cookie Dough 

Peanut Butter Chocolate Chip Cookie Dough 

Sprinkle Sugar Cookie Dough  

Sugar Cookie Dough 
4) BIOHM
BIOHM is a probiotic supplement brand that optimizes digestive health backed by proven science and expertise. By combining good bacteria, good fungi and a powerful digestive enzyme proven to help break down digestive plaque. These ingredients allow BIOHM's Probiotic formula to maintain, support and optimize the balance of the entire microbiome in the digestive system. Additionally, BIOHM products are vegetarian, egg free, soy free, non-GMO and are made with no synthetics. 
BIOHM's Top Products:
Total Probiotic Supplement 
Super Reds with Probiotics
Super Greens with Probiotics 

Super Kids
Cleveland Kitchen is a culinary brand that brings the highest quality fermented foods from the heart of Cleveland to the rest of the nation. They are known for producing amazing tasting sauerkraut, kimchi, salad dressings and pickles. Their krauts and kimchi are unpasteurized and lacto-fermented making them full of natural probiotics, nutrients and flavor. Additionally, with a base of fermented vegetables, their delicious salad dressings have fewer calories than traditional dressings while packing in all the flavor and gut-healthy benefits everyone loves. 
Cleveland Kitchen's Top Products: 
Beet Red Kraut 

Curry Kraut 

Roasted Garlic Kraut Whiskey Dill Kraut 

Classic Kimchi 

Veggie Caesar Dressing 

Garlic Italian Dressing 

Backyard Ranch Dressing

Dilly Garlic Chips/Spears
6) Dream Pops
Dream Pops is a gluten free, dairy free, soy free and vegan 100% plant-based ice cream. Each bar contains only 100 calories or less and is made with no artificial additives or stabilizers making stomach aches and sticky hands a problem of the past. Dream Pops offers a wide variety of ice cream pop flavors, as well as mini ice cream dream bites!
Dream Pops Top Products:
Berry Dreams Dream Pops

Chocolate Lion Dream Pops

Vanilla Matcha Dream Pops 

Coconut Latte Dream Pops 

Mango Rosemary Dream Pops 

Berry Dreams or Vanilla Sky Dream Bites 
7) Pocket Latte
Pocket Latte's mission is to wake up the world with natural energy. Their coffee bars live up to the mission because they are 100% fueled by real caffeine from real coffee, unlike most other coffee products that are made from synthetic and artificial caffeine ingredients. Pocket Latte coffee bars contain the perfect amount of natural caffeine that keeps you sharp throughout the day, without the jitters or crash that typically comes with other caffeinated products. 
Pocket Latte's Top Products:
Cream & Sugar Coffee Bar

Dark Roast Coffee Bar

Hazelnut Coffee Bar

Lavender Vanilla Coffee Bar

Mocha Coffee Bar

Coffee Bar Variety Pack

Mocha & Sea Salt Coffee Nuts
8) Siete
Siete is a Mexican-American food brand that crafts delicious and healthy Heritage-Inspired products. The family rooted company was established with the mission of creating low-inflammation grain free foods due to the owner's multiple debilitating autoimmune conditions and health challenges. Siete's products are gluten free, vegan, grain free and plant based offering great nutritious value and taste for the whole family! Siete offers a wide variety of different types of chips, as well as a product line of hot sauces, taco shells, dairy free queso cheese, taco seasonings, tortillas and cookies.
Siete's Top Products:
Sea Salt Kettle Cooked Potato Chips

Lime Grain Free Tortilla Chips

Grain Free Taco Shells 

Dairy Free Nacho Cashew Queso 

Chipotle Hot Sauce 

Tortillas: Chickpea Flour, Almond Flour, Cassava & Chia, Cassava & Coconut

Mexican Wedding Cookies
Little Northern Bakehouse is an allergy friendly brand that uses certified gluten free and Non-GMO Project verified ingredients to bake their delicious products. They believe gluten free foods should taste delicious and make you feel good regardless of whether you suffer from an allergy or not. All of Little Northern Bakehouse's products are gluten free, egg free and dairy free. Additionally, their most recent product line of bread loaves are certified organic!
Little Northern Bakehouse's Top Products:
Organic Gluten Bread Bread Loaves

Gluten Free Bagels 

Gluten Free Artisan Pizza Crusts

Gluten Free Dinner Rolls 

Gluten Free Hot Dog Buns
10) Hilary's
Hilary's provides healthy, convenient, great-tasting veggie burgers and meatless products free from the top 12 common allergens. Hilary's products pack your diet with plant-based, whole food nutrition without any artificial preservatives or ingredients. Additionally, all of Hilary's products are USDA certified organic, as well as plant based, gluten free and vegan.
Hilary's Top Products:
World's Best Veggie Burger 

Black Rice Veggie Burger 

Super Cauliflower Veggie Burger

Fiesta Black Bean Veggie Burger

Spicy Thai Veggie Burger

Apple Maple Meatless Breakfast Sausage

Sunny Sau'Sage Sammie 
We hope this list of our top 10 favorite health food brands inspires you to eat clean and nourish your bodies with the best ingredients this upcoming year!