Back To School: Safe Snack Guide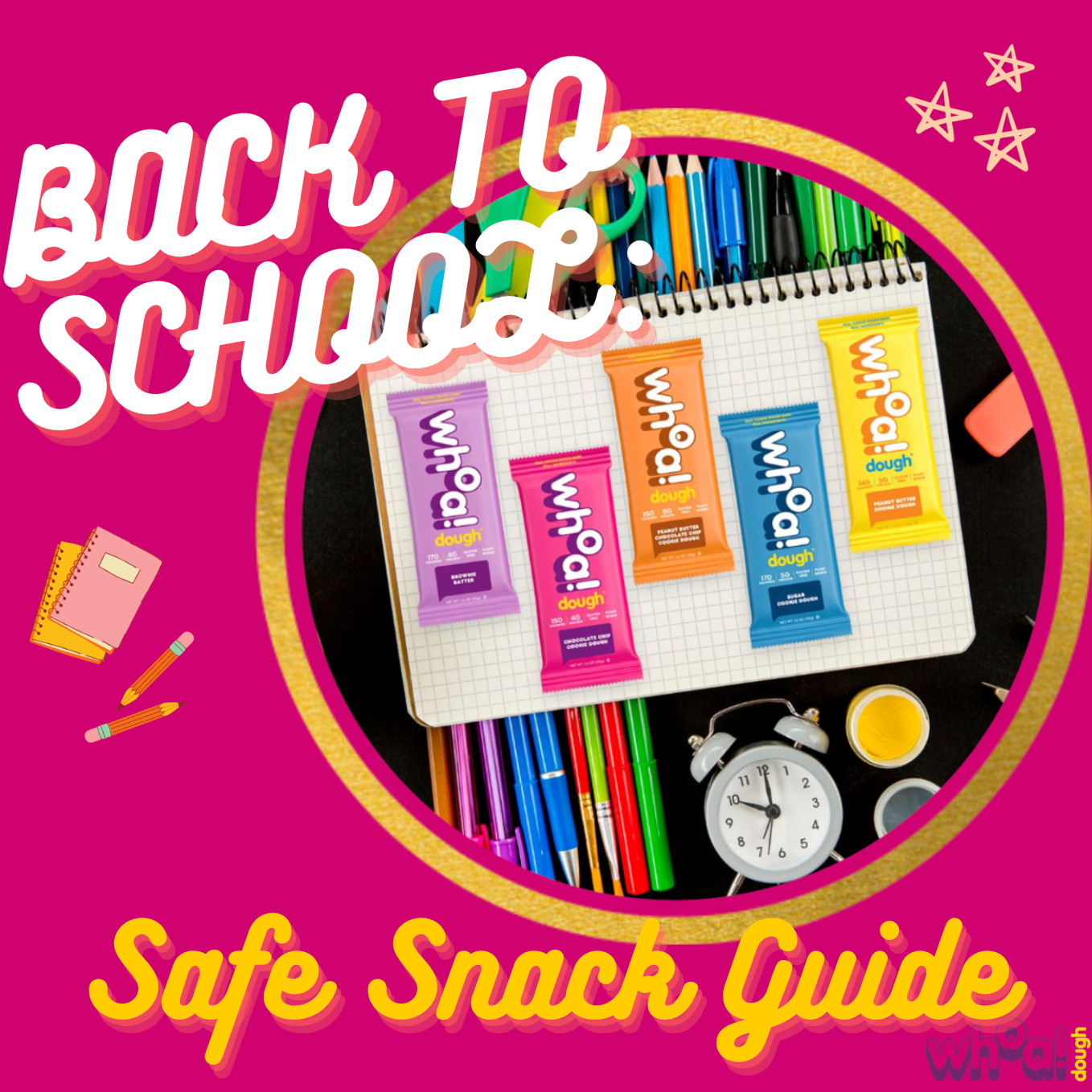 It's that dreaded time of year again: the start of school and end of summer. It's always that initial transition from summer to fall that seems to be the hardest. Once the first few weeks go by, it gets seemingly easier and easier, until– poof! It's summer again! I am here to help make that transition go as smoothly as possible by crossing at least one thing off your list: deciding what enjoyable school safe snacks to buy. 
Now what constitutes as an enjoyable school safe snack? Well first off, a school safe snack is often allergen free, particularly nuts, but a school quality snack also includes something often overlooked: it's packed with natural ingredients. It's easy to deem a snack like Oreos a school safe snack, after all, they're vegan and don't have nuts, that must mean they're healthy, school safe snacks, right? Wrong. Like many other popular childrens' snacks, Oreos are chalked full of artificial and not-so-good for you ingredients that will leave you feeling crappy and oftentimes lethargic. This article will go through ten of the most popular not-so-healthy snacks children eat, and will replace it with a healthier, school safe alternative. 
1) Oreos/ Catalina Crunch Sandwich Cookies
Since I used Oreos in the introduction, it is only fitting to give them a proper health conscious alternative. Catalina Crunch's Sandwich Cookies come in floor flavors: chocolate vanilla, peanut butter, chocolate mint, and vanilla creme. While there are nuts in the peanut butter flavor, all of the cookies are vegan, non-gmo, keto, lower sugar, and have nothing artificial. 
2) Goldfish / Annie's Cheddar Bunnies
If I am being honest, I am a sucker for Annie's. Annie's has so many different snacks/food it's not even funny. One of my favorites however has to be the cheddar bunnies (I particularly like the white cheddar flavor). They are made with real cheddar cheese and lack artificial flavors and coloring (unlike goldfish).
3) Smartfood / LesserEvil popcorn
This one pains me to write. SO many people view Smartfood Popcorn as a healthy snack, when in reality it is packed full of artificial ingredients. Not to mention, it contains one of the worst things out there: corn syrup. If you are looking for an actual healthy snack, try LesserEvil's popcorn! They have a variety of different flavors, including delicious seasonal flavors as well. Not to mention, their popcorn is organic, non-gmo, gluten free, and vegan.
4) Cheetos/ Hippeas 
Mmm. Cheetos. One of my childhood favorites. I know it can be hard to give up that delectably cheesy taste and those orange fingers, so maybe you don't have to! Hippeas are a great alternative to Cheetos, as they feel and taste just like the real thing! They are made from organic chickpeas, and contain 3g of fiber and 3g of protein per serving.
5) PopTarts/ Bobo's Toaster Pastries 
Team Cinnamon Brown Sugar or Frosted Strawberry? I was always more of a Frosted Strawberry fan myself growing up, that is until I realized it was full of artificial, refined, unhealthy ingredients. Bobo''s Toaster Pastries on the other hand, are organic, have 18g of whole grains, are plant-based, and are dairy-free. (Also, if you do happen to be team Cinnamon Brown Sugar, Bobo's just released a Cinnamon Brown Sugar flavor!)
6) Rice Krispy Treats/ Made Good Crispy Squares
It's hard to resist the unique flavor profile of crispy and sweet puffed rice enlaced with melted marshmallows, but believe me when I say it is for the best. Rice Krispy Treats are chalked full with artificial and toxic ingredients. However, there is a great alternative made by Made Good that tastes even better in my opinion. Made Good's Crispy Squares are made up of a serving of vegetables, are  gluten free, organic, vegan and non-gmo.
7) Cheez-its/ From The Ground Up Cheddar Crackers
You would never believe that From The Ground up Cheddar Crackers are made from cauliflower! They are absolutely delicious, and are the perfect Cheez-it replacement. Not to mention they are vegan, gluten free, non-gmo, and significantly lower in calories than Cheez-its.
8) AppleSauce/ GoGo squeeZ
Oftentimes, apple sauce is filled with added sugars and unnecessary unhealthy ingredients. GoGo Squeez pouches, however, have nothing artificial, and the ingredient list is made purely from fruits and veggies. The best part? You don't even need a spoon! You can eat GoGo SqueeZ straight from the pouch.
9) Chips Ahoy/ Simple Mills Cookies
Nothing beats a classic chocolate chip cookie, I personally find myself craving them on the daily. Thankfully, there are many healthier options to choose from rather than Chips Ahoy when looking for that chocolate chip cookie fix. For example, Simple Mills has the best both soft, and crispy chocolate chip cookies– and they're good for you! They are made using unrefined sweeteners, simple ingredients, and are certified gluten-free, soy- free, corn free, dairy free, and gums/emulsifiers free. 
10) Candy Bars/ Whoa Dough
This one may be the most obvious of them all. Who needs candy bars when you've got Whoa Dough? It's not even just candy bars; Whoa Dough can replace any unhealthy sweet. Not only does it satisfy your sweet tooth, but each Whoa Dough bar is vegan, gluten-free, soy-free, non-gmo, kosher, and oh-so delicious!