Plants Meet PopStars: Celebrities You Never Knew Were Vegan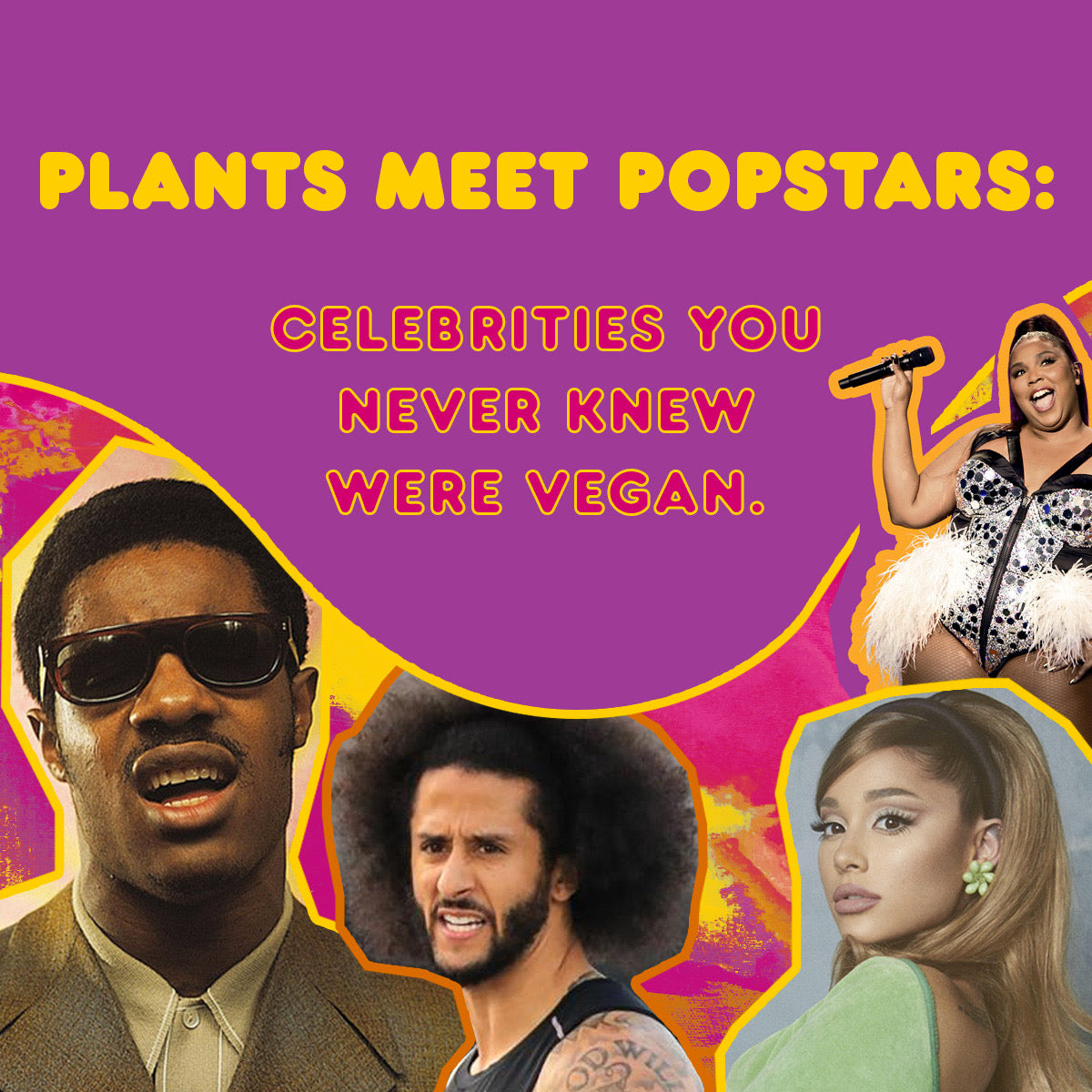 As we gain more knowledge about the human body and its proper functionality more and more people are beginning to adjust their diets to partake in a vegan lifestyle. However, this is not the only reason for doing so! We have highlighted a few well known celebrities that you might have not known were vegan, as well as their reasons for doing so. Although transitioning to a vegan diet can be difficult at first, these celebrities share their experiences and make it clear that it is not as difficult as it may seem.
Ariana Grande 
You might know her from her number one hits or recognize her from the fan favorite show "Victorious". At 29 years old, Ariana Grande has been an established vegan since 2013. Growing up with Italian, the pop star's diet consisted mainly of meats and cheeses. In an interview with The Mirror, the pop star explained her reason for being vegan: "I love animals more than I love most people, not kidding. But I am a firm believer in eating a full plant-based, whole food diet that can expand your life length and make you an all-around happier person." 
Woody Harrelson
American actor Woody Harrelson shares that he has been vegan for the past 30 years. He is extremely passionate about the environment and is a very vocal animal activist. He explains that while eating vegan is better for the environment it also gives him more energy in his day to day life. He feels so strongly about a vegan diet he wrote a letter to the Pope encouraging him to try it as his Lenten practice. His dedication and devotion to veganism has inspired many other celebrities to partake in the lifestyle change. 
Lizzo 
Singer and songwriter Lizzo recently converted to a vegan diet in the summer of 2020 because of her increased motivation to properly fuel her body. Something a lot of people don't know about Lizzo is she was a vegetarian for seven years before going vegan! Lizzo shares her vegan lifestyle on her Instagram stories and reminds her followers to eat intuitively by fueling their bodies with nutrient dense foods. She explains that the primary focus of adopting a vegan lifestyle is not about losing weight. It is about loving your body and treating it in a way where you are sustaining it with nourishment and all the elements it needs to thrive.  
Stevie Wonder
American singer and songwriter Stevie Wonder describes how his journey towards a vegan lifestyle was prompted by health reasons and strengthened by his compassion for the environment. Although he is a recent vegan of only two years, he praises a vegan lifestyle due to its miraculous health benefits claiming he has never felt better. He also hopes to motivate others by explaining how veganism helps reduce the carbon footprint.  
Evanna Lynch
Well known for her debut in Harry Potter, Evanna Lynch commits a vast majority of her time and efforts towards her vegan activist lifestyle. The star originally went vegan in 2015 because of her compassion for the environment. Aside from eating a plant based diet, she has created her own vegan, cruelty free beauty subscription box service. Additionally, she has launched a podcast, Chickpeeps, in which she talks about all things vegan! 
Colin Kapernick 
U.S. football player Colin Kapernick originally went vegan in 2015 with his girlfriend, Nessa Diab, in hopes that the change in diet would help him recover from injuries sustained during his football career. He received an overwhelming amount of criticism from the public with many doubting it would help him recover. He explains that eating plant based has made him feel much healthier and more energetic. Today he continues to maintain his vegan diet and even has his own flavor of vegan Ben & Jerrys ice cream donating all of the proceeds towards his fight to end police brutality and racial injustice. 
Although transitioning to a vegan diet can initially seem overwhelming, there are so many alternatives and people (including pop stars!) to support you along the way. These celebrities are just a few of the many vegan activists in the world hoping to create a difference in not only their personal lives but the world as a whole!